What I did on my Winter Vacation
(Note: Clicking on any image in this travelogue will bring up an enlarged version of the image.)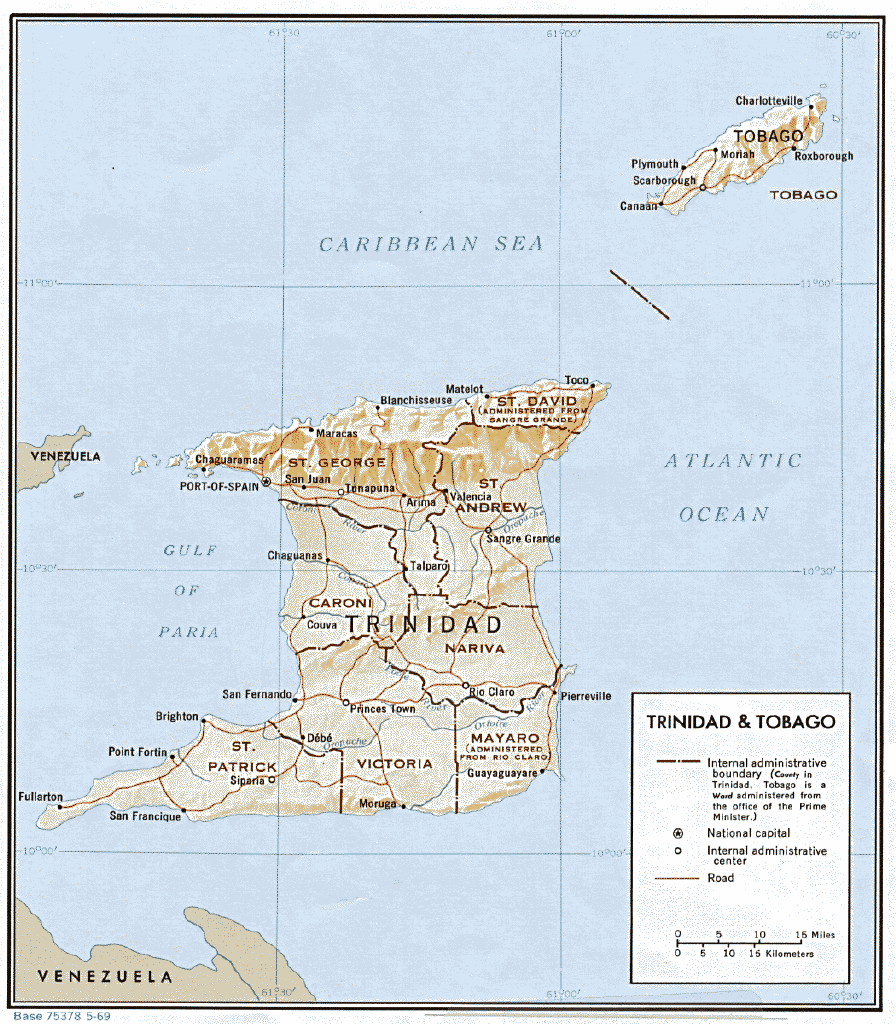 Jenny has always had a fondness for the Caribbean, so when we decided to take a couple of weeks off this winter, we (she) decided on Trinidad and Tobago. We have a good arrangement. She does the research and travel arrangements. I drive on the left.
I don't own a camera, but I thought to borrow a digital one from my friend Chris. I was a little disappointed in the lack of resolution with the images produced, but I've sprinkled them in here and there to give you some idea of the look of the place.
Trinidad And Tobago is (are?) one country at the very southernmost end of the West Indies just off the coast of Venezuela. The two islands united under common rule about 15 years ago, after about a half century of independence. Previously, they underwent about 350 years of bouncing back and forth over 30 times from colonial control by England, France, Spain, the Netherlands, and who knows, maybe even Nepal and Luxembourg when nobody was looking. Trinidad was Columbus' arrival point on his first transatlantic voyage.
Its population of a little over a million is mostly English-speaking, although with a dialect that makes it difficult to understand to a North American. Trinidad has oil and natural gas resources and some agriculture in citrus, cacao (the basis of chocolate, not cocaine) and sugar. Tobago is the little sister of the pair. The bottom fell out of its agricultural economy some years ago, and its prime economy is now in tourism. It boasts of the oldest protected natural forest preserve in the world established in 1765(!) to preserve watershed necessary for maintaining the sugar plantations there.
Friday, March 8, 2002
Staggered out of bed at 2:30 AM (Hey! I thought this was supposed to be a vacation!) to my buddy Mark's knock on the door. He was to ferry me to Jenny's house, and thence to arrive at JFK recommended 3 hours in advance of our 7:00 flight. All that proved conservative, and we spent a lot of time hanging around a strangely deserted terminal waiting for our boarding. We flew directly to Port Of Spain, Trinidad in about 5 hours. We shifted one time zone later.
Trinidad is prepared for in increase in commerce. The airport is very new and spiffy, and much larger than is needed to handle the current traffic. We were picked up by a car arranged by our guest house, and driven through some of the scruffier sections of Port of Spain on to Tunapuna, where the Pax Guest House is situated.
Pax Guest House
| | | | |
| --- | --- | --- | --- |
| 2nd floor Front Verandah | Common Room | Lower Verandah | Dining Verandah |
The Pax Guest House was originally part of a still active monastery situated on the steep slopes of Trinidad's central mountain range. The building was purchased by a private developer, and converted into a guest house. We were greeted on our arrival by Sheldon, the manager, a well-spoken young black man with a twinkle in his eye and a gentle sense of humor. He showed us around the place. The public spaces have an air of faded elegance; high ceilings and antique furniture and fittings give it charm, and the spectacular views lend it majesty. There is a lovely shaded tea garden, and a dining room that extends onto a verandah overlooking a forest preserve. The bedrooms are pretty Spartan, though, and there are common bathrooms. Breakfast and dinner were included. Dinner was served buffet style, and the food was OK. (The soups were all great, though.) There was no air conditioning, and sometimes the temperature in the 80's and high humidity got a little wearing when the breeze died down. All the outdoor areas were festooned with bird feeders, which attracted lots of songbirds and hummingbirds from the nearby forest. (Any attempts to photograph them were frustrated by the poor resolution of my camera. "There: See that dark blob? That's a hummingbird. Honest.)
We sort of got ourselves settled in, and hit the sack early to catch up on some needed sleep. We'd find ourselves doing a lot of that during this trip.
Saturday, March 9, 2002
Set out to do a little exploring of the mountain on foot in the morning. There are miles of tracks through the nature preserve on whose borders the Pax House sits. The hiking was fairly strenuous, and I'm pretty out of shape from a sedentary lifestyle, so I got plenty pooped. As were puffing our way up the slope, we were passed with a cheery "Hello" by a good-looking 20-something fellow striding up as if it were level ground.
Three brilliant flowers of the West Indies
| | | |
| --- | --- | --- |
| ----------------------------------------- | ----------------------------------------- | ----------------------------------------- |
A mile or so of serious uphill trekking led us to a fire tower. The sign said that it was open only to authorized personnel. We saw the fellow who passed us earlier coming down the steps from the tower, and he graciously authorized us; of course we returned the favor. While recovering my breath I found myself engaging in a delightful rambling philosophical conversation with him. His name was Will, a Canadian, and a seminary student at the monastery. Topics ran from balancing work and play to the Israeli-Arab conflict. After about a half an hour we bade good-bye, and Jenny and I climbed the tower
Views from the fire tower.
| | | |
| --- | --- | --- |
| -------------------------------------- | -------------------------------------- | Pax Guest House with red roofs |
Throughout dinner the night before, everyone was telling us that THE place to see was the Caroni Swamp Bird Sanctuary. OK, I'm game. We told Sheldon, and he arranged for a car to take us there and back. That is the way things are done. The public transportation situation is sort of haphazard, and reliable drivers are valuable commodities. I doubt if the driver had any official license or sanction to act as a chauffeur, but Sheldon's recommendation carried weight. So we headed out to Caroni.
Scarlet Ibis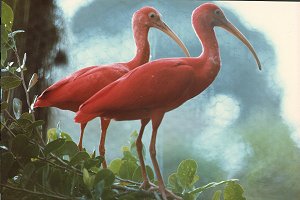 Photo courtesy Caroni website
The Caroni Bird Sanctuary is a large protected area in the northwest corner of the country. Its water is brackish and tidal, and the landscape is mangrove swamp. Its star attraction is the scarlet ibis, a wading fowl particular to this area. This bird is not just red. It is RED. The official explanation is that the carotin in the crabs upon which it feeds give the bird its color. I suspect that when it flies from its roost in the morning, its first stop is a body shop in Port Of Spain where they spray-paint it.
We arrived in the staging area for the trip. It was not an auspicious-looking place. About 40 tourists gathered under a ramshackle thatched roof on ramshackle poles alongside a ramshackle wharf where a number of large open boats of dubious ancestry powered by smoky 2-stroke outboards were moored. Appearances, however, can be deceiving. The boats were sturdy fiberglass craft, and Victor, our guide was extremely knowledgeable. We comfortably packed about 20 folks into the boats and proceeded through the maze of waterways and passages through the swamp. Victor would point out all sorts of fauna that I would never have seen on my own, including tree boas coiled in Gordian knots in mangrove branches and minuscule hummingbirds hundreds of feet away through the foliage. (Note to self: Be careful. You associate the Caribbean dialect with ignorance. That is a false assumption, and belies a prejudice within yourself. Stay aware of this.)
Caroni Bird Sanctuary
| | | | |
| --- | --- | --- | --- |
| The staging area with yours truly taking trip notes on his trusty PDA | | | |
The high point of the trip was to watch the return of the ibis' to roost. Around 6:30, three of the boats gathered from their separate journeys to moor by the shore of a large open expanse of water. We were told to watch the far shore. Right on schedule, a pair of brilliant red fowl came winging in from the swamp. Then a few more. Then a dozen. Then 50. Then 50 more. They continued to arrive, traveling in flashy flocks, all landing on a small island across the water, mixing in with egrets and making a happy racket. The guides were wise enough to shut up and let the birds be the show. Pretty impressive, I must say.
Came back to Pax, had a good dinner, and then sat out on the 2nd floor verandah and played a little music with Jenny. (I had brought my guitar, Jenny a recorder.) I discovered that the saddle on the guitar (my road guitar: a Washburn, not my Martin) had failed under compression of the strings, and the instrument was buzzing a little.
I have a bit of unease about this place. There is an unspoken need for security. The front door of the guest house is locked at all times, and even the guests must be buzzed in. The need to hire a car and driver to go anywhere is a little unsettling. I wouldn't want to drive in the crowded narrow streets, driving on the left with uncertain traffic customs and haphazard street signs.