St. John Vacation
(Note: Clicking on any image in this travelogue will bring up a full screen version of the image.)
Tuesday, April 2:
St. John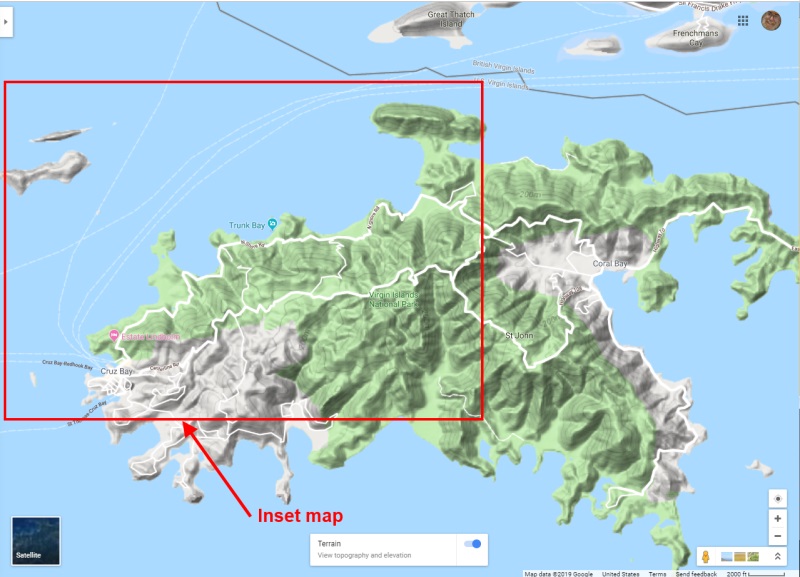 St. John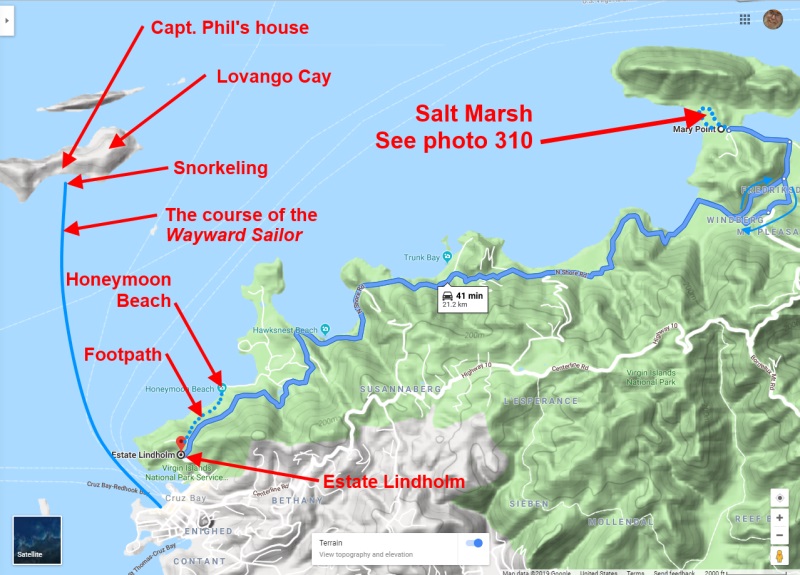 Tuesday Travels
A buffet breakfast was served at Estate Lindholm. A little more than "continental" but not quite "full English". They did indeed serve eggs, but only cold hard boiled. Well, when you're away from home, I guess you gotta rough it every now and then.
So today's agenda was as follows, according to the Tour Directrix
Spend the morning at Honeymoon Beach.
Take a sail on the sloop Wayward Sailor to some good snorkeling sites.
Pick up the rental car, and explore north shore of St. John.
Honeymoon Beach
| | |
| --- | --- |
| 100. A little too far down the road | 110. Honeymoon Beach |
| 120. Tame wild donkey | 130. Vikings |
| | 150. Drone |
After breakfast, we picked up some towels and a beach chair, and set off up the road to find the trailhead of the footpath down to Honeymoon Beach. We overshot the trailhead by a quarter mile or so, (Photo 100) before Jenny realized it, and turned back. The trail was not terribly steep, but very rocky. I couldn't really appreciate the scenery, because my eyes were continually on the ground watching my footing. But in 20 minutes or so, we reached the beach, and it was a beaut. Sparsely populated, fine white sand, warm clear water, plenty of shade from the trees at the verge (Photo 110). The water was shallow quite a ways out, and there was no surf worth mentioning. We stayed there about three hours, swimming, lounging, snoozing, and I went through a few chapters of the audio book I was "reading". (Hey, it's vacation. I don't have to spend every minute actually doing something!) When I got hungry, I moseyed down to the other end of the beach, and bought a burger at the beach bar. I was startled to see a donkey (Photo 120) wandering nonchalantly by. The bartender told me that they were descendents of pack animals brought there in the 19th Century that have been living wild ever since. They're quite comfortable around people, but don't depend upon them for survival.
As the day wore on, a number of commercial tourist sailing catamarans (Photo 130) arrived, anchored offshore, and discharged their passengers on the beach via inflatable dinghies like the crews of so many Viking longboats set on pillaging the quiet countryside. There goes the neighborhood. Jenny and I walked the length of the beach and back. Not far. Only about a quarter mile long with lots of rocks at each end, discouraging any casual exploration beyond the boundaries. At one end was an artifact I've seen on walking trails wherever I've traveled: A pile of stones (Photo 140). The mark of Man, the Builder. What primal urge induces people (including me) to do that? The same one that resulted in the pyramids, I guess. I will usually add a stone of my own to such constructs, but I left that one as it stood. I didn't think any contributions I could make would successfully stand.
We headed back up the trail to Estate Lindholm. As we arrived, we encountered a fellow operating a drone. (Photo 150). He was taking aerial photos for the Virgin Island Tourist Bureau or something like that. We showered, changed, and walked down the hill to Cruz Bay to meet Captain Phil of the Wayward Sailor, who would take us out snorkeling.
The Wayward Sailor

160. The Wayward Sailor*


170. Capt. Phil


180. Approaching Lovango Cay


190. Capt. Phil's house


200. House detail
* Photo from Wayward Sailor website. No full page image available.
Capt. Phil Chalker (Photo 170) is a character straight out of a Hemmingway novel. He looks the part too: lean weathered, and browned. You shake a hand that feels like a corn cob, and look into eyes that are all-knowing and kind. At age 80, he's been sailing the Caribbean waters for half his life, and master of the Wayward Sailor for thee quarters of that. At one time he lived aboard her, but has now built a house on Lovango Cay (Photos 190 and 200). He's a licensed Captain, and marine naturalist, and instructor in snorkeling and scuba. The Sailor (Photo 160) is a 30 foot sloop with distinctive red sails. And for crew, he sails with a woman named Tarn, who seems to know the craft as well as Phil. They work together with barely a word spoken between them, each knowing their own part of the task almost like instinct.
We waited for Phil in the town square, right on the water, and while we ate our lunch and listened to what appeared to be a bored fellow playing steel drum to a recorded backup track in a gazebo in the middle of the square. Phil arrived right on time. There was another couple scheduled to join us, but they cancelled at the last minute. So we had Phil to ourselves. He took us out to the Sailor in an inflatable dinghy, and we boarded while he tied the dinghy to the Sailor's stern.
He gave us a no-nonsense safety briefing, and we were on our way. We motored slowly out of the harbor, and raised sail. I smiled to watch Phil handle the tiller in one hand, the mainsail in the other, and the motor controls with his bare right foot. When we reached open water, he shut down the motor, and we were off. It was a half hour sail to Lovango Cay, about 2-1/2 miles distant. Photo 180) The available space in the pit of the boat was a little tight, but sufficient. We moored to a buoy already in place, and prepared to go snorkeling.
Jenny enjoys snorkeling. I had tried it once on a previous trip with her. But I had a lot of trouble with the mask leaking around my moustache, and felt a little claustrophobic with my head underwater and water getting into my nostrils. So I hadn't tried it again since. I was undecided as to whether to try it this time. But Capt. Phil assured me that he would fit me out with equipment that would seal. Phil had a big assortment of fins, masks, and snorkels. And he fitted Jenny first while I ducked into the cabin to change into my swim trunks. To seal the mask, Phil daubed about a pound and a half of Vaseline on my moustache. I wasn't too crazy about that, but I let him. And yes, it did seal the mask properly. So I stepped down the ladder over the side and started poking around with my face underwater.
It went pretty well. I could see well, and breathe well, and what little water leaked into the mask I could clear easily with the technique he had shown me. So I struck out to where Jenny and Phil were looking at the coral and fish maybe 30 - 40 feet from the boat. I noted that I could hear my own breathing clearly. And I could also hear the occasional feedback from my hearing aids, covered by the strap of my mask. HEARING AIDS!!!??? OH SHIT! I had forgotten to remove them before going into the water. They are distinctly not waterproof, and salt water can't be good for anything electronic.
I lifted my head out of the water and high-tailed it for the boat. I put one foot on the ladder, took off my mask, and pulled the hearing aids out of my ears, and handed them to Tarn. She suggested she rinse them in fresh water, and I said no. Just take out the batteries (she knew how), and leave them out in the sun to dry. This might have been a very expensive oversight.
Oh well. What's done is done. I'm in the water. I have the gear and it works. I may as well enjoy what's left of the session, no matter how expensive it turns out to be. So I spent the next 30 minutes or so paddling around, both with Jenny and Phil and separately, looking at the sites. The water didn't look more than 6 or 10 feet deep, but it was probably more than that. I saw all sorts of fish, including a small sand shark hanging around the bottom. According to Phil, they are the only species of shark that does not have to be moving through the water in order to breathe. After a while, I began to feel tired, so I headed back to the boat, and climbed in. As soon as I was back on board, I immediately set to inspecting the hearing aids. They appeared to be dry by that time. So I trepedaciously put the batteries back in and tried them out. Whew! They still worked. I had, however, lost the plastic tip that fits into the ear canal on one of them, and didn't have a spare with me. So, for the rest of the trip, I had to make do with one ear.
Virgin Islands National Park

210. Boots


220. Francis Bay Trail


230. Boardwalk


240. Salt Marsh


250. Wading Birds


260. Pelican on the hunt


270. Pelican on the hunt


280. Pelican on the hunt


290. Francis Bay


300. Sunset on Francis Bay


310. Salt Marsh
We said goodbye to Captain Phil back at the town square, and I walked over to the rental place to pick up the car we had reserved. Most of the car rental places on the island were little Mom & Pop affairs, (or as my uncle Gregory used to call them "No-Mama, No-Papa outfits"), rather than outlets of the big chains. And every last one of them rented identical late-model Jeeps, either 2-door or 4-door models. Ours was blue. At one point in our travels, after seeing a number of identical looking blue ones in a parking lot, Jenny started singing,
Chunky boxes on the hillside.

Chunky boxes from the rental place.

Little boxes, little boxes, little boxes all the same.

There's a blue one, and a red one

And a yellow one, and another blue one.

And they all come from the rental place,

And they all look just the same.
(For those of you unfamiliar with Malvina Reynolds' song, "Little Boxes", here are the lyrics to the original.)
I really had no complaints about the car, or the rental agency. Everything worked, and it was air conditioned. The odd thing was that while it was a familiar left-hand drive vehicle, as were all the other cars on the island, the rule was to to drive on the left hand side of the road like they do in England. I thought that odd, St. John being a US territory. And in Denmark, from whom we acquired St. John, they also drive on the right. I've driven on the left before, and I've gotten used to it pretty quickly. But sitting in the left hand seat, you don't see the oncoming traffic around left hand turns until it's right on top of you. And the roads there can be pretty narrow with no shoulders. As a pedestrian, you also have to walk along the "wrong" side of the road when there are no sidewalks, as is most often the case outside of towns. I never did get used to walking along the right edge of the road. And hearing a car approaching from behind me, would invariably send me veering off into the weeds to avoid being hit from behind, only to see the car all the way over to the left as it passed me.
We stopped back at Estate Lindholm to change into dry clothes, and were met there by Boots (Photo 210), one of the estate's feline occupants. Unlike the cats on St. Thomas, he was particularly sociable, and enjoyed, and even sought out our company. One night I heard him outside, calling to be let in. I would have, but for my concern for our room's next occupants, who might have been allergic.
We decided to explore the north shore of the island in what remained of the day. If you'll look at the overall map of St. John at the top of this page, you'll see that the US Virgin Island National Park, shown in green, occupies about 3/4 of the total land area on the island, and much of the waters and reefs offshore as well. Estate Lindholm lies just within the borders of the Park. We set off westward along North Shore Drive (Route 20), which mostly follows the coast, driving slowly, usually not more than 30 - 35 MPH. There was almost no other traffic, and we were able to stop and gawk whenever we saw something particularly pretty. We passed several turnoffs to various beaches along the shore.
We finally parked and got out at Francis Bay, and walked along the footpath there (Photo 220). The trail was boardwalk (Photo 230), set about 6 inches off the ground, and I soon discovered why. The ground was particularly muddy and spongy due to a sand bar cutting across the bay, and isolating a large portion of what was the bay from the ocean. (See the Google Image in Photo 310) The entrapped body of water turned into a huge salt marsh (Photo 240) only a couple of inches deep. Look at the enlarged inset of the wading bird in Photo 250 to truly appreciate how shallow the water is. And that holds true throughout the marsh. I didn't find it particularly attractive. There was no visible vegetation in the water, and it looked dead. The entire marsh was surrounded by a wide "beach" of black spongy earth. I tested it with a toe, and my shoe penetrated the muck with almost no weight on it. But as dead as it looked, there must have been something living in it as evidenced by the pelican skimming the water for something yummy in Photos 260, 270, and 280. Oddly enough, the place didn't smell as rotten as I would have expected. But I'll betcha it must be a haven for bugs in the appropriate season.
The path eventually debouched on the beach of Francis Bay just as the sun was setting (Photos 290 & 300). It was deserted except for one fellow at the east end of the beach. We walked towards him, and discovered the return loop of the path there, along with a welcome pit toilet. We took the path back to the car, and moseyed back to Estate Lindholm in the dark.