February 24, 2018
Arming Our Teachers
"President" Trump suggests we require a small percentage of teachers to carry firearms on the premise that it would dissuade potential school shooters from carrying out their attacks, knowing they would face armed opposition.
That would only hold true if school shooters were rational. Which, by definition, they aren't!
All that would accomplish would be to make all teachers, armed or not, the primary targets.
February 20, 2018
Justice Served Against Corporate Malfeasance!
Many years ago (I'm not sure exactly when) I was done a great wrong by AT&T. (I don't quite remember the precise details of that injury.) I felt battered and violated, but I didn't know what recourse I could take to correct this mockery of justice. However, I and thousands of my fellow victims resolved to band together to set matters straight. We hired attorneys and experts to launch a class action suit against the dastardly perpetrators of this heinous crime. We doggedly pursued this case through countless roadblocks and legal maneuverings by the corporate villains. We met their delaying motions with counter-motions of our own, overcoming all legalistic impediments to our cause, launching appeals higher and ever higher within the court system. And in the end, we triumphed! We won our case.
But collecting our settlement was another matter. Again platoons, nay regiments of lawyers battled in our behalf for years and years. And when the dust had cleared, we again triumphed. And yesterday, a check arrived in the mail representing my share of the settlement. I am so happy and proud, I decided that rather than cash the check, I'd frame it and hang it on the wall as a symbol of my part in the little guy's battle, and eventual triumph over corporate greed.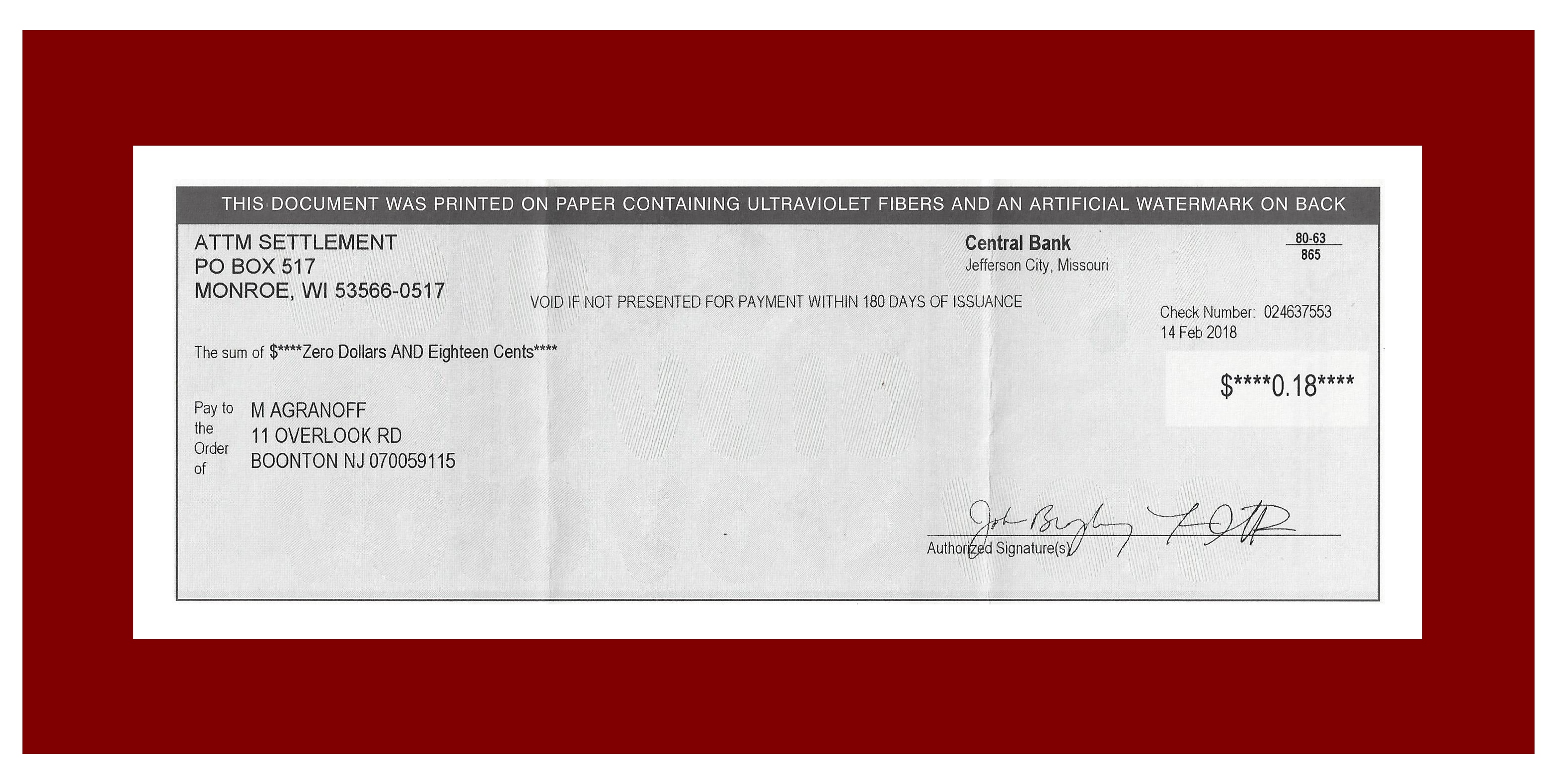 January 12, 2018
False Alarm
Names & phone numbers redatcted in respect for their privacy
.
Those of you who are regular patrons of this Blog might recall the piece I wrote in 2016 about my Uncle Albie in which I fondly recalled the then 96-year-old athletic uncle who was very much a part of my childhood. Well you can imagine my sadness at receiving the above notice in the mail today. What made it worse is that the letter had been mis-delivered to the wrong address, and then forwarded to my correct address, where I received it only two days before the memorial.
I called my brother Saul to inform him of the sad news, and then called my cousin Lois in Michigan, Albie's daughter, to offer my condolences. She reacted with shock, not having heard anything about it. I explained to her about the notice. And she burst out in laughter. "It's not a memorial. It's a 98th birthday party!" she exclaimed.
Sure fooled me. Look at that notice with its black border, and tell me that I didn't make a very reasonable, although happily incorrect assumption. I called Saul and told him about the error, and we both had a good laugh.
I'm going to the party.
POST SCRIPT: January 15
Uncle Albie, his wife Nydia, and Nydia's daughter Daisy in background.
(And me in the mirror behind them, taking the picture.)
.
So I went to the party. It was great to see Uncle Albie after something like 17 or 18 years, and my cousin Phillip after more than 50 years. But truth be told, other than that it was not much fun. The affair had been put together by a professional party planner, complete with a deejay, who filled the hall with music so loud it was almost impossible to hear Albie, whose voice is quite soft. Or to hear anyone else for that matter, even when they were shouting to be heard over the music. The deejay also served as master of ceremonies to the proceedings with all the warmth and sincerity of a game show host. The food was good, though. So I stuck it out for a couple of hours, until I felt a headache coming on, and then took my leave.
The word had already spread through the crowd of 50 or so guests about how I had misinterpreted the party invitation as a memorial gathering before I arrived. And everyone had a good laugh about that. Nydia is Latina, and the attendees were an equal mix of Hispanic and Brooklyn Jews, and all very comfortable with each other. My circle of friends and acquaintances is primarily pretty white-bread, and it was gratifying to see the harmony that reigned in that gathering. The deejay had appropriate selections for both branches of the family.
Albie is in good spirits, but he is somewhat frail, and uses a cane to get around. He's still very much into the sport of running (He ran his last marathon in 2000 when he was 80.), although nowadays his participation is more in following the activities of his running club then in the actual participation in the sport. His 2nd wife, Nydia is 12 years his junior, and doing just fine. Albie was sort of wishing that they would have held off and thrown the party on his 100th.