Windjammer Cruise
(Note: Clicking on any image in this travelogue will bring up an enlarged version of the image.)
Saturday, March 8
Sint Maarten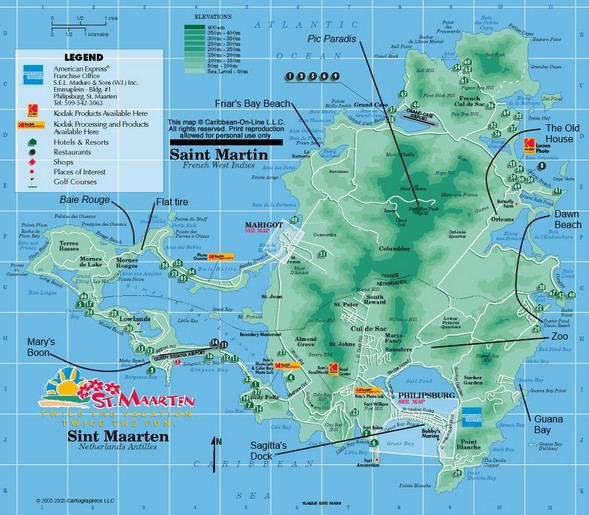 Sorry. I just don't multi-task. So leading into this trip for a couple of weeks, I was walking around with a piece of paper in my pocket whereon I wrote lists. Lists of stuff to pack. Lists of stuff to do. Lists of people to call and things to buy and whatever the hell else I needed to make sure that as the wheels of the aircraft left the runway, I didn't smack my forehead and say, "Oh shit! I forgot <Insert vital item>!" Whenever I would think of something I'd reach into my pocket and add to one of the lists. As it turned out, I did pretty well. The only thing I forgot to pack was socks.
Friday was crazy. I was going to be on staff at the Minstrel. (The concert series I book for the Folk Project). I was to then spend the night at my friend Bill Henderson's house a couple of blocks from the venue, leave my car there, and Bill would take me to the airport next morning. One of the acts at the Minstrel was going to stay at my empty house Friday night, and needed directions. My 200 foot driveway was completely covered with a foot and a half of snow, hardened over the past two months of Polar Vortex to the consistency of portland cement, except for one cleared out spot for my car by the road. Access from the house to that spot was via a trampled-down path that was icy and uneven. I had to negotiate this trek with my luggage, and the performers had to traverse it in the dark with their guitars. As it turned out, Bill invited the performers to stay at his house as well, saving them that hassle.
The flight went pretty well without incident. Bill got me to Newark Airport in plenty of time, I had no problems with security, and the flight to the island of Sint Maarten via Philadelphia went smoothly. I was flying with my guitar and backpack as carryons, and one bag checked in. I gate-checked the guitar on the little commuter aircraft to Philadelphia, but was able to bring it on board for the long flight to St. Maarten. The island is one time-zone east of home, so I had to move my watch. (But not on the flight back. The day after I left, New Jersey went on Daylight Saving time, and so caught up to me. But Sint Maarten, being close to the equator, does not observe DST, so we were in synch again.)
Deplaning in Simpson's Bay airport was a bit of a culture shock after 2-1/2 months of days in the teens and nights in the single-digits. I blinked in the tropical sunlight, feeling sort of unbaked and very white. Not that I was complaining, mind you. I found a taxi that brought me to Mary's Boon, the resort where we were staying.
Mary's Boon Beach Resort
| | | | |
| --- | --- | --- | --- |
| Mary's Boon | | | Jenny |
Mary's Boon Beach Resort is, as would be expected, right on the beach of Simpson's Bay. Yeah, we could step right out of the room onto the porch with the view you see, and then down the steps, across the sand, and into the water. Water temperature was around 78° with very light swells. The room had rudimentary kitchen facilities, WiFi, and a spacious bathroom. On the other hand, it was right next door to the active runway of the airport, so every few minutes a plane would roar by as if along the street in front of your home. These ranged from 8-seat twin prop puddle-jumpers to Boeing 757's. They did shut down operations after 9:00 or so. The facility also came complete with two dogs and four cats on the grounds, which I found refreshingly welcome.

Jenny had flown separately from me (She lives in Vermont), and arrived ahead of me. The plan was to stay overnight Saturday, board the ship on Sunday, sail until the following Saturday, and then go back to Mary's Boon for a couple of days and hang out on Sint Maarten until Tuesday when we would head home. She had arrived ahead of me, and after I had settled in, we decided to walk into Simpson's Bay for dinner.
It was about a mile walk, past the airport. Our passage in front of a small junk yard evoked a frantic yapping from something that sounded like a shiatsu or Pomeranian. They have strange ideas about junk-yard dogs in the Caribbean. It was Saturday night, and we figured we'd have no problem in finding a place to eat. We did, however have difficulties in finding a quiet place to eat. Every restaurant was blasting out some form of dub or reggae. We finally found a Chinese place, with no music and no other customers.
It was the end of Regatta Week. There was a whole row of very impressive racing sailboats moored along the dock. We decided to investigate them and wandered through a gate to see. It turned out we had wandered into a private and very exclusive marina whose gate had been left ajar. But no one seemed to mind as we strolled past the impressive lineup of mega yachts and racing craft. "Don't mind us, sir. We're just gawking. I'll take half a dozen of this model in light blue. Have them wrapped and sent to my hotel."
Sunday, March 9
Sint Maarten - Departure
We found a nice place in town for breakfast, and came back to Mary's Boon for a quick swim before packing and vacating the room. We hung out on the beach until around 12:30, when we got a taxi to pick us up and take us to Phillipsburg where the boat awaited. The boat was due to sail at 2:30, but Jenny wanted to be early. The taxi let us off at the entrance to what I called the Tourists' Money Vacuum. This was a complex of shops, restaurants, etc. in conjunction with the docking facilities for cruise ships. It's all very new and spiffy, and one was required to show one's boarding pass to get in. Keep the riff-raff out.
Well, we were certainly early. The promised Windjammer representative was nowhere to be seen. I could see some masts off in the distance, but I was rather heavily laden with suitcase, guitar, and backpack, and the temperature was somewhere in the 90s with not much shade about. We did manage to flag down a golf cart that took us to the dock and the Sagitta, where we could drop off our luggage until it was time to board. We wandered about the shops for an hour or two, and managed not to buy anything except an ice cream bar and four pairs of socks. (Most of the time onboard was spent barefoot anyway.)
The Sagitta
| | | | |
| --- | --- | --- | --- |
| On the one hand... | On the other hand... | Looking for'd from the bridge | Dining area in the stern |
| Sailing into the sunset | Pretty clouds | Sunset | Dusk |
| Silhouette | | Moon in the rigging | Our cabin |
One does not generally associate "Cruise Ship" with "barefoot". "Cruise Ship" generally evokes the image in the upper left of the group above. As my friend Ken Rolston likes to say, "I'd sooner be in a dragon's colon." The Sagitta, pictured in the 2nd photo, is much more to my liking. She is a 3-masted bark of 120 feet length, carrying 24 passengers and 9 crew. Her lines are not particularly pretty. Anchored amongst all the pleasure yachts and racing boats, she looks like a trolley car in the paddock of Le Mans. But she has character, and she is is in superb shape. The woodwork looks like it was repainted and re varnished yesterday, and she is absolutely spiffy. Captain Nervo is from Ecuador, and the crew is from South America or the West Indies mostly.
Our cabin was cosy, but more than adequate. About 8' wide and 10' deep with double decker bunks, air conditioning (which we seldom used) and a little private toilet and shower. Lunch and dinner were served al fresco in a dining area on the stern, and breakfast in an indoor dining area below.
We boarded around 2:00, found our luggage in our cabin, and stowed everything away. We had both packed lightly, so we had more than enough storage space in the tiny cabin. We went through a mandatory safety drill. The crew stowed the canopy that shaded us on deck and hoisted sail, and were on our way to Anguilla by 2:30 or so.
The sails looked odd. There didn't seem to be enough of them to be driving the ship, and some of them were rigged edge-on to the wind, and didn't seem to be even functional. I asked Captain Nervo, and to my dismay, they weren't. We were essentially motoring, and the sails were purely decorative. On subsequent legs of the trip, they didn't even bother to put them up. That was disheartening.
I had bought a new camera before the trip: a Canon EOS Rebel. I'm no photophile. It's a low-end single lens reflex affair that I bought because I wanted the option of looking through the viewfinder, rather than the screen of most point-and-shoot affairs. (My mother used to call those "PHD cameras". ["Push here, Dummy!"]) Nonetheless, it came with so many bells and whistles and a 150 page manual that mastering it would probably be good for a 3-credit college course. But I had some fun with it. The two photos of Jenny in the bottom row were kind of neat, as was the "moon in the rigging". (Somehow, the moon looked bigger in real life.) .
We fetched up in Anguilla by evening, ate dinner, and hit the rack early.