Windjammer Cruise
(Note: Clicking on any image in this travelogue will bring up an enlarged version of the image.)
Monday, March 10
Anguilla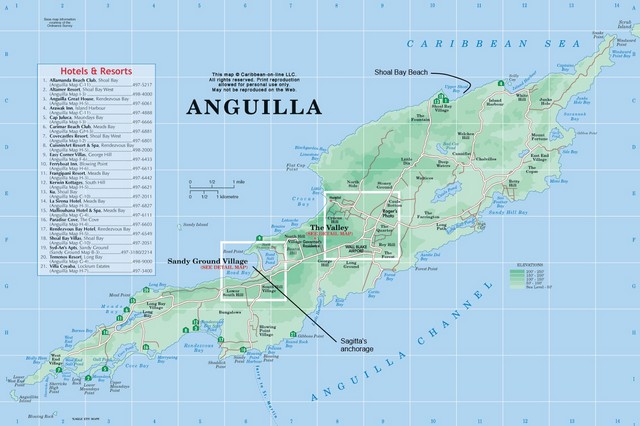 II had been concerned about possible seasickness. I'd never been at sea on a vessel this small. I needn't have worried. We were never in any rough weather or seas, and what movement the ship had was no bother to me at all. We awoke moored in Cove Bay. Breakfast was served in the below-decks dining room. And then we all boarded the inflatable dinghy to be brought ashore and transferred to vans hired to take us on a 10 mile journey to Shoal Bay beach.
Once away from the anchorage, our journey took us along scruffy countryside through scruffy villages along roads that seemed to have been repaved one pothole at a time over the past 20 years. As we neared Shoal Bay, there were signs of new and expensive construction, including one structure that looked like (but probably wasn't) an astronomical observatory. Jenny says, "Our Anguilla host and driver told us that the observatory is a rich man's folly--he had it built when he put up the house near the beach. 'Quite a few people like to look at the stars from here,' says Jamal".
Shoal Bay Beach
| | | |
| --- | --- | --- |
| Rain clouds over Shoal Bay Beach | Shoal Beach with observatory(?) in background | The eastern end of Shoal Beach |
| "Art" #1 | "Art" #2 | "High Art" #3 |
Shoal Bay Beach was a lovely long stretch of white sand. It was sparsely attended, with a couple of beach bars that would rent you a beach chair and umbrella for a day for $10. (All the islands used US dollars as standard currency, and the French side of St. Marten used euros as well.) The Sagitta provided us sandwiches and soft drinks in coolers. I think Shoal Bay Beach was my favorite of the trip. The bottom was sandy, and there was just enough surf to have fun without dashing me into the ground when it broke. Like all the beaches along my journey, the water was delightfully warm. We experienced our first and only rain during the trip in the form of isolated gentle sprinkles that were welcome in the hot climate, and evaporated almost as soon as they fell.
II pretty much lazed about the whole time, reading, snoozing, and swimming. In the afternoon, Jenny and I walked along the beach about a mile to its eastern end, and ventured around the point, where the beach pretty much ran out of sand. I experimented with the camera a little bit taking some close-up "art" shots of images I thought looked interesting. I present them for you here. Click on them to enlarge and contemplate upon their quiet beauty. I won't bother you with any such folderol henceforth.
In the late afternoon, we piled back into the vans and jounced back to Cove Bay for transfer to the Sagitta via dinghy. The ship supplied us with what was essentially an open bar, of which some passengers availed themselves liberally. I consumed maybe 2 or 3 piña coladas diluted 50% with pineapple juice over the course of the cruise. Around 6:00 I hauled out my guitar and brought it to the dining area on the stern deck. I had not brought my good Martin D28, but rather a nice workhorse Washburn dreadnaught that will serve in situations where there may be some danger of its being lost or broken. (I did carry it in the Calton flight case I bought for the Martin, which is probably worth as much as the Washburn itself.) There were one or two folks in the dining area who had expressed an interest in hearing me play when they saw me carrying the case, so I asked if they would like to hear some music. They consented, and so I played a few songs. Others gathered, and I gave a sort of informal sunset concert for about a half hour. I did have to ask the crew to turn down the music that was being piped all over the ship. (That music was the one less-than-welcome factor of the cruise. I have trouble hearing conversation over background, and I wasn't fond of the reggae / salsa mix of music they played anyway. I was continually asking that it be turned down. (See Public Music, which I wrote and posted on this Blog during the trip.)
I turned in shortly after dinner for an early sleep as we set sail (err... motored) through the night for Nevis.
Tuesday, March 11
Nevis
Morning found us off the town of Charleston, the main town on the island of Nevis. Nevis is a perfectly shaped volcanic island. When Janny and I visited there in 1998, the island had just started to recover from the collapse of its primary income source, the growing of sugar cane. (Undercut by larger-scale sugar production from South America.) The were constructing a harbor facility similar to the Tourist Money Vacuum on Sint Maarten in anticipation of tourism as its primary industry. That facility is now up and running, although not so large as Sint Maarten's.
The engineer in me took interest in the on-deck anchor winch, which could also serve as the motive power for hoisting sails. I admired the efficient simplicity of the mechanism, although it would never have passed muster for any OSHA inspectors.
After breakfast, we were brought to shore via dinghy to either wander around and see the local sights in Charleston or partake in a guided tour of the island. Jenny was feeling lazy and opted to stay on board Sagitta, and I opted for the Island tour.
Nevis Island Tour
| | | | |
| --- | --- | --- | --- |
| Approaching Nevis | The anchor winch | Looking back at Sagitta from the dinghy | Looking back at the Sagitta from the port facility |
| Hot springs | Baobab fig tree | Wild donkeys | St. Kitts across the narrows |
| Golden Rock Inn | Sugar mill at Golden Rock Inn | Interior of the sugar mill | Gazebo(?) |
| Golden Rock Inn gardens | The real Nevis | Nesbit Plantation - veranda | Nesbit Plantation - from the dining room across the back yard to the sea |
About 6 or 8 of us climbed into a van which took us on a leisurely circle of the island. The driver pointed out various attractions along the way, and sometimes we would stop and explore. Charleston itself was small, but bustling, but soon we were off through the countryside. We stopped at a hot spring, which had been thought to have medicinal qualities for centuries. They've now constructed a very nice public spa fed by the waters, which are about bath temperature. Nearby was a Baobab fig tree said to be many (I forgot how many) centuries old.
Continuing up into the highlands, there were some lovely vistas. Wild donkeys graze on the hillside. There were lots of wild monkeys as well, but I got no photos of them. At one point we had a great view of St. Kitts, our next destination, across a narrow strait that separates the two islands.
We stopped and wandered about a beautiful resort called the Golden Rock Inn. It was once a sugar plantation, and the ruins of the old windmill that was used to grind the sugar was picturesque. Coming back down to the ocean again, I took the photo that I titled "The Real Nevis". This was indicative of the character of the land where most of the permanent inhabitants lived: a little scruffy, but pleasant and cosy, and never far from the sea.
We stopped again at the Nisbet Plantation Inn. This facility, also a converted sugar plantation, was the birthplace of Fanny Nisbet, wife of Admiral Horatio Lord Nelson. This place was very elegant in an 18th Century fashion with a dining room overlooking an immense greensward that led down to the sea. The place was open and airy, catching every breeze to keep the place cool under the tropical sun.
We passed a wind farm with a half dozen latest technology turbines generating electricity in scarce supply throughout the islands. I'm told that the towers are constructed so as to be able to fold horizontal at their bases in times of hurricanes.
Pinney's Beach and the Sunshine Bar
| | | | |
| --- | --- | --- | --- |
| Sunshine Bar | Jenny, Sunny (the Sunshine Bar's owner) and me | Beanbag horseshoes | Score one for them. |
We got back to Charlestown, and were ferried back to the Sagitta for lunch while the Sagitta hoisted anchor and sailed (figuratively) to Pinney's Beach, just a few miles north of Charleston. We anchored offshore, and rode the dinghy to a "wet landing" at the beach (There was no dock, and we had to beach the dinghy and splash our way to shore.) This beach featured good snorkeling and Sunshine Bar. This latter is locally famous for its "Killer Bees", a drink of legendary potency. The snorkeling and libation held no interest for me (My moustache interferes with the seal of the mask, and I don't drink.). But I relished the prospect of free WiFi at the bar. So while Jenny paddled about the coral gawking at fish, I hauled my laptop over to the bar and caught up on correspondence. (She said the snorkeling was magnificent.) I did get some swimming in the calm waters.
There was a sort of horseshoe game set up on the sand using bean bags and a target made from a sloping piece of plywood with a hole in it instead of horseshoes and stakes. After watching a game, I asked if it could try. A hotly contested match ensued with me and one of the crew members pitted against a local and another crew member. After several lead changes, our side finally lost 21 to 18. One rasta-looking fellow offered me a toke of marijuana. I politely thanked him and declined. Might have been nice, but I preferred to err on the side of caution.
We returned to the ship and turned in. And sometime in the middle of the night, we set sail for St. Kitts.
.