September 25, 2003
Successful England Tour

I just got home from a real good tour of England. In 2 1/2 weeks, I did 8 performances all around the country, plus 4 concerts at the Otley Black Sheep Festival. The English Folk Scene is subtly different from that in the U.S.
The core of the Folk Scene in England is the folk club. I've not encountered its like here. Essentially these are gatherings of people who like to sing. They take place in function rooms of pubs. People gather at tables over pints of beer, and take turns singing a song. Sometimes there is a moderator to keep the singing moving along; sometimes it just goes as it will in free-form, with a general sensibility prevailing to keep one person or a small group from hogging the proceedings. In the examples I saw, most of the songs are sung acapella, and most have choruses in which everyone joins. Many are traditional, but many are newly written to be sung in such a situation.
The beer is pretty essential to the scene. I saw one or two examples of people getting plastered (and ruining a good session), but that was the exception, rather than the norm. You couldn't run a dry folk event in England. No one would come. There is more tobacco use there than in the States too. Often smoking was forbidden during the event, but that ban was sometimes ignored, and anyway the room smelled of residual tobacco. Sometimes made it uncomfortable to sing.
The concerts I played were an outgrowth of that scene, rather than the more formal performer/audience settings typical in the US. They were held in the folk clubs. The role of the performer is more like that of a featured guest singer at the club, rather than a stage performer. The difference is subtle, but important in the way one approaches the performance. Stage and lighting were minimal or nonexistent. All but one of the club gigs I played were done without a sound system. Audiences ranged from maybe 10 to 40. The intimacy was like that of a house concert. However, since the attendees were used to singing, they would pick up on choruses quickly, and they would sing enthusiastically; none of this breathing the words under their breath for them! Performers accustomed to using microphone technique to produce a soft but beautiful vocal quality would not find such a gig easy. The schedule of the evening generally runs pretty much as follows: Around 8:00 the evening begins with two or three "floor singers". These are regulars of the club, who do around 10 minutes each. In my experience, they were usually pretty good. Then the Featured Guest (me) would do a 40 minute set. Then a 10 minute break to get fresh beer and get rid of used beer, and the second half would mimic the first: a couple of floor singers and then a second set from the Featured Guest.
My audiences tended to be greying, as in the US. I had hints of a younger folk scene here and there, and there are undoubtedly very different venues that cater to the younger generation. Folk clubs usually run weekly. They will operate on weeknights as well as weekends, making it possible to set up a rather condensed tour where you're playing virtually every night. Some clubs have Featured Guests every week. Some as few as once a month, with the rest of the nights being singarounds for the attendees. CD sales tend to be much lighter in the UK than in the US. You can expect to sell only 4 or 5 CD's per gig. On the other hand, they sell for a higher price than in the States. Typical is 12 pounds, which is something more than $18.
The Otley Black Sheep Festival was unlike any US Festival I've been to. Its format more resembled that of a First Night. There were about 20 venues all over the town of Otley, all within walking distance. Most were pubs, but there were a couple of larger halls in a Methodist Church and a Civic Center as well. Most of the events scheduled were concerts and demonstration dance events. There were only one or two "workshops" as we have in US Festivals, and no participatory dancing. The events ran on Thursday and Friday nights, and all day Saturday and Sunday. Performers sold their own CD's off the side of the stage, rather than there being a central Performers' Sales area. Someone told me that Otley had more pubs per capita than any other town in the UK. In the pubs where there were no concerts scheduled, there were official and impromptu singing or fiddle tune sessions, It was in these sessions where I encountered the few obnoxious drunks, never in the concerts.
I had enough free time to do a little sightseeing. My friend Jenny met me in Lincoln and traveled with me for a week of the tour. I got to see Lincoln Cathedral, the National Railway Museum in York, Ilkley Moor (Baht 'At), Seaside parks on opposite shores at Southend and Blackpool, the Industrial Museum in Sheffield, and lots of the left side of the road. Jenny and I went to a "barn dance" at Cecil Sharpe House, the renowned folklore centre in London. (Got so lost looking for our London hotel that I finally had to get out of the car and hail a taxi to lead us there. Nothing beats hiring a native guide when you're in the jungle. I asked the cabbie if this happens often. He said, "All the time!") The barn dance was a mix of contras, English Country Dances, and other such patterned dances done to called figures. Excellent floor and very good sound. The band was a pick up affair with electric fiddle, flute, and keyboard. The music was familiar or familiar-sounding tunes, well played. But I wasn't keen on the sound of the electric fiddle. They announced bands and callers for future dances, and there were a couple of familiar American and Canadian names among the lineup.
The tour was a pretty thorough success. My material and approach dovetails perfectly with the English sensibility. That plus my "exotic" status as a foreigner brought me some pretty good notices, and everyone asked when I'd be back. I probably will go again sometime within the next year or two.
May 1, 2003
Two Tidbits of Good News

I got a new car. A Mini Cooper S. British racing green. Picked it up the beginning of April. Sends the "Cute" meter to the peg. Drives like a street-legal go-cart. Plenty of room for me and another person plus luggage. Completely inadequate room for 4. Only one dissatisfaction: the gas mileage is well below what I would have expected.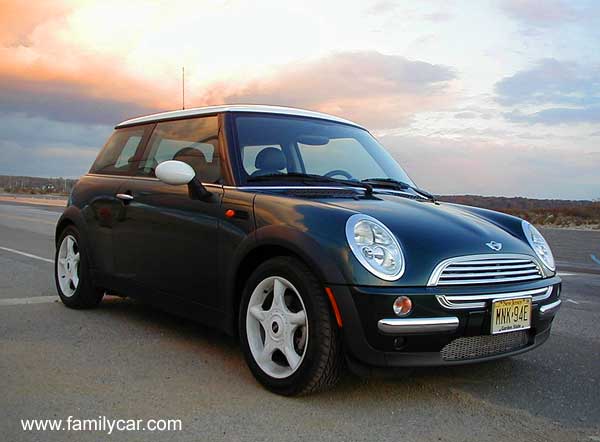 Other bit of good news is that I've been booked for the Champlain Valley Festival!! This has been sort of a career goal for me, as it is one of my all-time favorite festivals to attend. It's the first weekend in August in Ferrisburgh, Vermont held at Kingsland Bay State Park. Great balance of performers and a magical site right on the shores of Lake Champlain. More details as they emerge on my Schedule page.