Southwest Vacation
Part 2: Sedona
(Note: Clicking on any image in this travelogue will bring up a full screen version of the image.)
Monday, September 4
Tucson to Sedona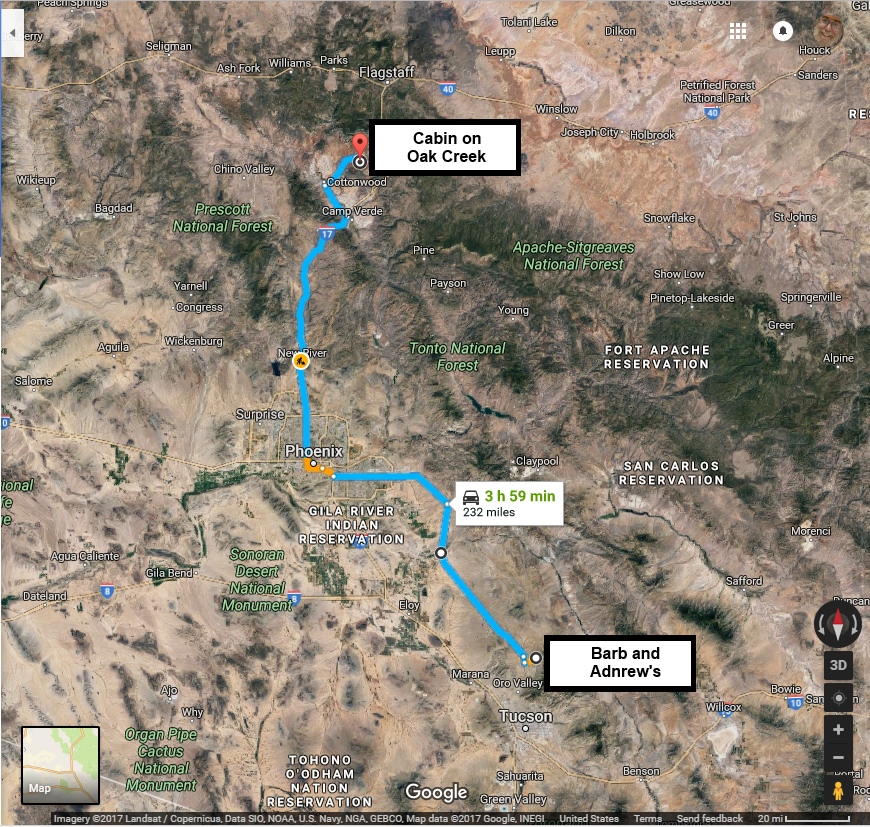 Andrew and Barbara are wonderful friends, and I love them dearly. But they can be high-maintenance travel companions 🙂. We were going to hit the road for Sedona first thing. But there was cleaning up from the night before, and packing, and loading the RV, and hitching up the car behind the RV, and shopping for and preparing food to bring along, and the fridge in the RV wasn't working right, and the dogs, and what did we forget, and what did I do with my keys, and, and, and, and...
We actually departed at 1:30.
On the road to Sedona

010. The RV


015. The RV


020. Life on the road


025. RV interior


030. Maggi


040. Molli


050. Maggi, Molli, and me


060. The long straight road


070. Approaching thunderstorm


080. The deluge


090. Silver lining
This would be the Beast's maiden journey for Andrew and Barb. Travelling by RV was a new experience for Jenny and me. Not so much for Andrew, who had driven tractor trailers at one point in his many-storied life. I would be somewhat intimidated by the size of the Beast alone, let alone towing a car behind it "dinghy" fashion as we did. But Andrew said it handled like a dream. All things are relative. There were some teething problems, including the aforementioned malfunctioning refrigerator. But for the most part, it behaved itself admirably. Andrew said he's thinking of renaming it "Ten Ton Molli" in honor of my recitation of that name, and the shih-tzu.
It is a 2003 Winnebago 32T Diesel Pusher (Photos 010 & 015), powered by a 5.9 liter 300 HP Cummins Diesel. Able to sleep 6, it has 2 slideouts, a generator, outside awnings and of course heating and air conditioning. It is 32 feet long by 8-1/2 feet wide with the slideouts retracted. If one isn't actually driving it, it's really a luxurious experience, more akin to travelling by rail than by automobile...in one's own private Pullman car. One can get up, walk around, stretch out on the couch or nap on the bed, and, of course, go to the bathroom. Taking the dogs along on vacation is no big deal with this thing. They had the run of the joint (Photos 030, 040, and 050), and you don't have to worry about finding a place to stay that accepts pets. (Just one that accepts RVs, as you will see shortly. Read on.) One can read (Photo 020), watch TV, or just relax and watch the world slide past through a windscreen the size of a picture window.
It's especially suited for the wide open roads of the Arizona desert country. Photo 060 reminds me of a line from a song I heard once that went something like "...tie your wheel to the door, and sleep till morning." It got a little more exciting north of Phoenix where we ran into thunderstorms (Photos 070, 080, & 090) with lots of wind and lightning, including a few impressive ground-strikes. We had hoped to arrive in Sedona before dark, but it was not to be. We pulled up at the Cabin on Oak Creek around 8:00. Which was more of an operation than it sounds like. Driving a 32' vehicle along the open highway is one thing. Negotiating the switchbacks down to Oak Creek, and the dirt road on which the cabin was situated, and parking it was something else entirely. The owner of the cabin had described a parking area adjacent to the cabin where we could stash it, and Andrew eventually shoehorned the thing into place. That was to come back and bite us later.
Jenny and I unpacked our stuff, and brought it into the cabin where we were to stay for the next 3 days. The Hines' would sleep in the RV, and leave for home sometime on Wednesday. It was cool enough that we were comfortable shutting off the air conditioner, but we could hear the RV's diesel generator running the Hines' air conditioner. I wondered what the neighbors might say to that. We dined in the cabin's kitchen on some chicken and salad left over from the previous night's potluck. Andrew unhitched the car, and we took a quick tour through Sedona proper. Most of the town was closed for the evening, but we got a little feel for the place. It is a real tourist trap, but it has what it takes to ensnare the tourists. I was thoroughly and happily ensnared. The countryside is spectacular, with rock formations, and Oak Creek cutting a spectacular canyon through the mountains north of town. The area draws an odd mix of outdoorsy folks, sportsmen, hikers, climbers, and spiritualists who have found the region rich in vortex energy. Whatever that is. I don't claim to understand that, but I don't have to, and God bless them if they've found what they're seeking.
We went back to the cabin, and turned in for the evening.
Tuesday, September 5
Sedona - Airport Loop Trail
This vacation was my first experience using AirbnB. I was not particularly happy with the user interface. I found myself somewhat ill at ease with the website, not knowing the conventions, some of the terminology, and what was important to pay attention to. Our usual division of labor on vacations is that Jenny takes care of all the planning and itinerary, and I handle all the driving. That generally fits our respective temperaments; Jenny, a librarian by trade and training, and is more comfortable with research, while I like to drive. But her lovely secluded home in the backwoods mountains of Vermont has neither cell phone service nor a broadband internet connection. A decade and a half into the 21st Century, she's still on dialup internet. Those limitations made it nigh impossible for her to establish an AirbnB account. So while she selected our lodgings from the AirbnB website using the broadband connections at her library, she handed off the duties of actually making the reservations to me. But AirbnB does not assign each lodging a unique identity number, and identifies it only by a verbal description, in this case, "Cabin on Oak Creek". And there was more than one lodging listed by that name, or something close enough to be easily confused. And what I rented was not the one she chose. Luckily, it proved most suitable anyway, except it was further from town than she had expected.
Cabin on Oak Creek
| | | |
| --- | --- | --- |
| 100. Cabin on Oak Creek | 110. Rock formations | 120. Red Rocks |
It was a roomy cabin with a big living room, bedroom, kitchen, bath, and enclosed porch (Photo 100). There was also a very cool loft overlooking the living room, that would have made a great place for kids to sleep (Low headroom). It was a little scruffy inside and out, but clean and neat. And the scruffiness enhanced the homey feel of the place. It felt like your uncle's hunting cabin in the woods, rather than a corporate hotel. I liked it. The furnishings were comfortable, and it was a short walk from the creek and a public park. Some of the bluffs and mesas that characterize the area were visible in the distance (Photo 110), and the red rock cliffs of the neighborhood abounded (Photo 120).
Airport Loop Trail

130. Hitchhiker


140. The intrepid band


150. Trailhead lookout


160. Off on the trail


170. Treacherous footing


180. Treacherous footing


190. Southeastern vista


230. Me on the trail


200. Southeastern vista


210. Southeastern vista


220. Jenny on the trail


240. Southeastern vista


Video: Southeastern vista


250. Northwestern leg


260. Sightseeing helicopter
Sedona has a tiny airport perched atop a mesa 500 feet above the town proper. This is where all the rich folks arrive in their private planes, and from whence the helicopter sightseeing tours depart. There is a 3.8 mile hiking trail that picks its way around the steep slopes of the mesa just below its flat top. It affords some spectacular views of the surrounding countryside, including many of the red rock formations for which the Sedona area is renowned. This was to be our activity for today.
We drove into town for breakfast. Leaving the breakfast place we spotted an intrepid praying mantis preparing to hitch a ride to the airport with us (photo 130). We also stopped at a drug store so I could pick up an insulated water bottle. Everyone in the entire state of Arizona had admonished Jenny and me to drink lots of water, as the celebrated "dry heat" of the area would cause dehydration even if we didn't feel thirsty. The hike upon which we were about to embark had no water sources along its length.
We drove up to the airport and got out at a scenic overlook above the town, where a large group of Japanese tourists were gathered. We asked one of them to take Photo 140. Left to right, it's Andrew, Barbara, Maggi, Molli, Jenny and me. We then went back down the road to the trailhead, where the Hines' dropped Jenny and me off. Andrew's recent foot surgery would not permit him to take so long and strenuous a walk, so they went back to town to explore and shop. We would call them when we were ready to be picked up.
As you can see from the map, the airport runs northeast to southwest, and the trailhead is at the northeasternmost point. We would traverse the loop clockwise. There is an overlook at the point looking northeast (Photo 150), and then the trail strikes off southwest (Photo 160).The mesa drops off quite severely on the outbound leg of the loop, so the trail is narrow with a steep dropoff on the left side. The surface is crumbly and slippery, and one needs to be very conscious of every step to be sure the footing is good (Photos 170 and 180). In compensation, the vistas that leg of the trail provides are pretty spectacular (Photos, 190, 200, 210, & 240). But those vistas run into the same problem I encountered on Mount Lemmon: The photos do not do them justice. One can't get the true scope and feel of actually being there. I thought maybe a video might better represent that feeling, so I offer the one provided above of a full 180° sweep off the edge of the trail.
Google Maps gives the travel time around the loop at 1 hour and 38 minutes. They must have a bunch of Olympic athletes working there. It took us (well, me) well over twice that. What with the combination of the altitude (4,830 feet), the temperature (dry or not, 95° is still 95°), my age (72), and probably dehydration despite my new water bottle, I was really starting to feel it by the time we reached the southwestern end of the mesa, and rounded the point. Note photos 220 and 230, and observe which of us was wearing the backpack. (I did take the pack from Jenny for a bit on the return leg where the walking was easier, but I had to return it to her after a half hour or so. She's 10 years younger than me.)
You'll note in Photo 250 that the terrain flattens out considerably on the northeastern edge of the mesa. The walking was easier, but the leg of the trail is longer, as it curves out away from the airport runway on that side. A couple of small rain clouds passed over as we started the return leg. We were pelted with widely scattered large warm raindrops that made half-inch wet circles on the hot rocks that evaporated and disappeared as we watched. The rain was refreshing and welcome.
A sightseeing helicopter appeared over the edge of the mesa above us, and headed out for the impressive rock formations to the west. That was the only sign of air traffic we saw during the entire hike. We also did not encounter another soul on the trail until close to the end when a small party of hikers overtook us, and then another couple of folks approached us from the opposite direction. I was beginning to wonder how much further we had to walk, when I suddenly realized that the GPS on my phone could pinpoint our location. Shoulda thought of that sooner. It became necessary for me to sit and rest in any shady spot I could find more and more often. I had periods of dizziness and confusion when standing up, and I was aching all over. Classic signs of dehydration. I had been conserving my water, and finished up the bottle about a half mile from the trailhead. I called Andrew to come pick us up around then. We arrived at the trailhead a few minutes before they did. And I just sprawled in the shade of a tree, completely knackered until they showed up. Jenny weathered the hike much better than I.
Barb and Andrew arrived with a pretty interesting tale of their own. Apparently our neighbors at the Cabin were not pleased with the appearance of Ten Ton Molli across the street from them, or the hum of its generator. The police arrived, concluded that the RV was parked on private property that did not belong to the Cabin. And furthermore it was on top of a water supply main to the road. Threatened with being towed away if they did not move it instantly, they drove it to a nearby RV park and rented a space overnight at some exorbitant fee. Again, I must take responsibility for that. I had interpreted that spot to be the one our landlady verbally described as being the designated location to park an RV. What she had meant was a spot directly adjacent to the cabin itself, which Andrew had judged insufficient to fit the RV when we first arrived.
We drove back to the Cabin, where I took a long drink of water, a long shower and a long nap. We went out for dinner where I treated everyone to dinner at a very nice Mexican restaurant called Javelina Cantina. I owed Barb and Andrew at least that much, and probably a whole lot more.
Wednesday, September 6
Sedona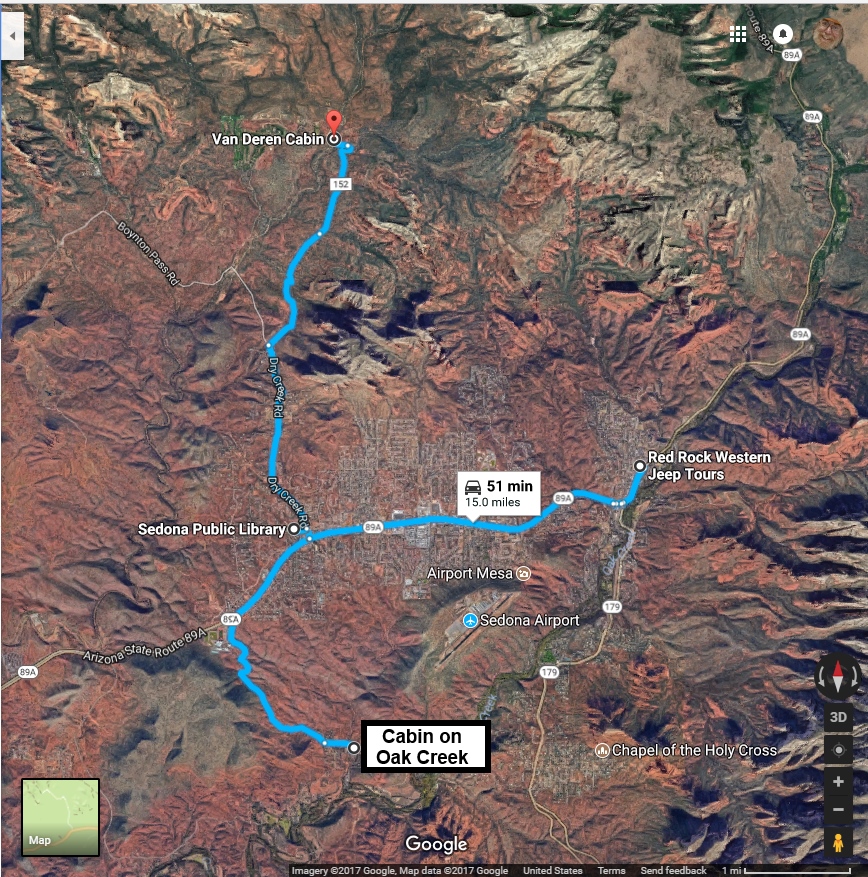 Alas, our Wednesday plans got pretty well scrambled. We had planned to spend most of the day bopping around Sedona with Barb and Andrew, and then they would depart for home towards evening, while we amused ourselves around the cabin. We would then pick up our rental car from Enterprise on Thursday (They pick you up where you're staying and bring you to the rental office.) and head off to Flagstaff. But they had to park the Beast at some distant RV park, and their checkout time was 11:00AM, or they'd be charged for another day. That, plus the fact that Andrew's foot and some other medical issues were really starting to bother him, led to their decision to check out of the RV park and head for home on Wednesday morning. That would have left us without wheels for the day, so I called up Enterprise to see if we could pick up the car today instead of Thursday. Unfortunately, they had no available vehicles except a 16-passenger van until noon. Jenny and I are both small vehicle advocates, and the thought of using a behemoth like that to carry just the two of us made us shudder. (True, we did travel from Tucson in a vehicle many times the size of that, but at least we weren't driving.) We decided to wait for the more reasonable car.
Meanwhile the Hines' drove to the Cabin in their car to join us for breakfast. Barb was keen to try my "browned butter eggs". Which is pretty funny to anyone who knows me well. I am culinarily-challenged. I pretty much live on frozen dinners and Entenmann's Chocolate Chip Cookies (I brought two boxes with me to hold me over the two weeks I'd be away from an East Coast supermarket where they are available.) The one culinary trick this pony does know is scrambled eggs. And that trick is to put plenty of butter in the pan, turn the gas on high, and keep it there until it's way too hot, and the butter is smoking furiously. Then dump the beaten eggs in and keep franticly turning them so as to present any portion of the eggs that is still liquid to the pan surface, while not letting any of the congealed eggs get stiff or burn. They're done in about 10 - 15 seconds for two eggs. Doing it right with a strange pan on a strange stove in a strange kitchen was tricky, but they came out OK.
That left us to figure out what to do with the rest of the day. Jenny remembered from her vacation research that there was a Verde Canyon rail sightseeing tour leaving from nearby Clarkdale. Checking the schedule, we learned that departure time was 1:00 PM, which was do-able if indeed the car would be ready by noon. We bided our time and watched the clock. And wonder of wonders, a few minutes past noon came the call from Enterprise that the car was ready. It wasn't the economy car we had originally reserved for the following day. But it was a Ford Fusion hybrid for only a couple of bucks more per day. I figured the better gas mileage of the hybrid would more than compensate for the rental price difference, and suit our temperaments as well, so we jumped on it. OK! come on down and pick us up. We'll just be able to make the train. They said they'd be there in 10 minutes. 10 minutes came and went, and so did another 10. And yet another. The driver finally showed up about 12:45 with the sad tale that her GPS had taken her to Zane Gray Road instead of Zane Grey Lane. So we missed the train.
Sedona Library
| | | |
| --- | --- | --- |
| 300. Bronze of children reading | 310. Sedona Miller Schnebly | 320. Library interior |
OK. Reset plans. There must be something to do in Sedona. Thumbing through the brochures supplied by the Cabin, we decided to try an offroad jeep tour to Van Deren Cabin out in the desert. That didn't start until 5:00, so we cast about for things to do in or around town until then. Sedona is an entertaining (although bloody hot) place to stroll around. The shops are an odd combination of hiking and camping establishments, western attire, Tarot card readers, gun shops, crystal and gem dealers, and life-sized bronzes of western inhabitants, human and otherwise, festooning the sidewalks.
Jenny is a librarian by training and inclination, and she had heard some good things about the Sedona Library, so we set out to take a gander at it. It certainly was impressive. The building was light and airy, comfortable, and, according to Jenny, prodigiously equipped with everything a modern library should offer. There was artwork inside and out, including a number of life-sized (or larger) bronze statues. The impressive rendering in front of the main entrance (Photo 310) is of Sedona Schnebly, for whom the town is named, and was created by Susan Kilewer. Jenny happily explored the library for over an hour while I read.
Red Rock Jeep Tour
| | | | |
| --- | --- | --- | --- |
| 350. Intrepid explorers with guide, Dan Rice | 360. Red Rocks | 370. Fingers (Bread sticks?) | 380. Balancing rock |
| 390. Van Deren Cabin | 400. Headed back to the Jeep from the Cabin | 410. Westering sun on the rocks | 420. Dusk |
We went back to town for supper, and headed out to the Red Rock Jeep Tour office in town. There we were met by our driver / guide / trail boss, Dan Rice. He appeared colorfully attired in Stetson, western shirt, jeans, boots, and six-gun. As it turns out, he is a professional tour guide, and has plied his trade all over the US and Europe. He herded us and two other couples into a red jeep fitted out with big knobby off-road tires and a roll bar, and no doors or side windows. I had uneasy visions of us hurtling airborne over humps and waddies, disgorging passengers is all directions. But I needn't have feared. He drove us right past the library, and then out of town for a few miles until he left Dry Creek Road onto a goat track which, according to Google Maps, has been optimistically bestowed a route number 152.
To call it a dirt road was being kind. To call it a road at all was being kind. It was a winding strip of desert distinguishable from the rest of its surrounding only by the lack of vegetation between its verges, and the multitude of knobby tire tracks that marked its right-of-way. Its path was punctuated by boulders, cliffs, and canyons that the vehicle was obliged to traverse. But we did so at about 3 miles per hour for the most part, and we all stayed within the confines of the vehicle, although we were rocked from side to side vigorously from time to time. According to Dan, the right-of-way used to be in much better shape, but recent funding cutbacks have allowed it to deteriorate to a state where it is really only passable to off-road vehicles. The Jeep is purportedly stock except for the roll cage, the removal of the doors, and the sideways seating in the rear.
Route 152 wound for about 3 miles through public land through the typical Sedona landscape. The red rocks, colored by low grade iron ore loomed about us in fanciful buttes and mesas (Photos 360, 370, & 380). The separated upreaching rock fingers in Photo 370 look like a single butte when viewed from another angle. According to Dan, the balancing rock in Photo 380 has incredibly survived several earthquakes of his own experience.
Our journey ended at the Van Deren Cabin (Photo 390). The story was that Earl Van Deren took advantage of some homestead land arrangement that bequeathed the land to anyone who would build a dwelling, and farm there for some period of time. Wood is scarce to nonexistent in that part of the country, but Van Deren purchased an abandoned bootlegger's cabin in Sterling Canyon sometime in the mid 20s, and disassembled it and carted it piece by piece to its current location, where he reassembled it and introduced his new bride to it. Word is that she was less than delighted.
We headed back to Sedona as the sun set, lending majestic color to the rocks. We returned to the Cabin on Oak Creek for our last night there. There was a full moon, and Jenny took this striking photo of it before we turned in. The haze gives it a mystical glow, but still hides all those stars I was hoping to see.