030 View out back yard


040 View out back yard


050 View out back yard


060 Exterior Decoration


070 Exterior Decoration


080 Exterior Decoration


095. Jammin' with the locals


085. Front Yard


090 Hummingbird at backyard feeder
Andrew and Barbara live in an active senior community. It includes a golf course and a club house and a gym and a lot of active seniors. Their back yard looks out over the Catalina mountains (See Photos 030, 040, and 050), which they revel in and find endlessly beautiful. They extol the changing colors as the light changes over the course of the day. I still miss the green, but I am glad they're happy. They have fully embraced the Southwest milieu with appropriate interior and exterior decoration about the house, which I do appreciate. The back yard has a number of hummingbird feeders (Photo 090), which I find endlessly entertaining. Hummingbirds don't fly. They teleport. One instant they're hovering over the feeder, and the next instant they're 4 feet over, inspecting a flower, having never actually traversed the intervening space between the two locations.
Later on that afternoon, I rode back to the airport with Andrew to pick up Jenny, and then we all came back to the house and settled in.
Friday, September 1:
Tucson: Mt. Lemmon and Music Jam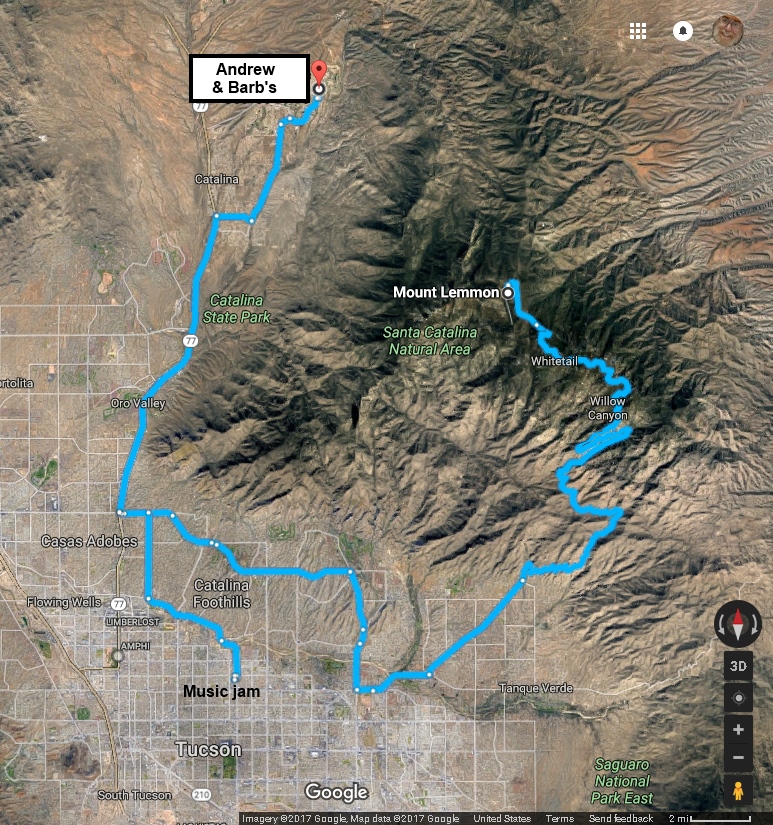 The plan was to stay with Barb and Andrew through Sunday, and then head north to Sedona. But Barb and Andrew had just purchased an RV. And they thought to christen the machine by running us up to Sedona and seeing the sights for a day or so, and then heading back home, leaving us to pick up a rental car for the rest of our sojourn. On the agenda for Friday was a drive up to the top of Mount Lemmon, (9,157 feet elevation) the highest peak of the Catalinas, where there is a hiking and recreation area, and where there is a cabin belonging to one of Barb's cousins. As you can see from the map, the peak is only 8 miles from the house as the crow flies, but it's a drive of over 60 miles of 2-lanes, as access is from the other side of the Catalina range. The climb up the mountain is up a scenic stretch of winding switchbacks, passing dozens of dramatic and seemingly precarious rock formations.
We resolved to get an early start. But well-intentioned plans were subverted by the practical needs of four semi-scatterbrained adults and two lovable, but self-centered Shih-tzus Maggi and Molli, who comprised the party, and we finally hit the road sometime approaching 11:00. We travelled in two cars because Andrew had to head back after lunch for a doctor's appointment.
Road to Mount Lemmon

100. Jenny and me


110. Molli and Andrew


120. Starkly beautiful? Or just bleak?


130. Rock formations


140. Rock formations


150. Rock formations


160. Rock formations


170. Rock formations


180. Petrified(?) tree


190. More rock formations


200. Still more rock formations


210. Vandals try to dislodge a balancing rock.


220. Yet another rock formation


230. Got rocks?
It was a good two hour plus drive. When we finally got to the base of the mountain and started climbing the twisty road up to the recreation area, I saw those rock formations they were talking about. And we stopped a couple of times at turnouts to take some photos. And came to realize for the first of many times on this trip that there are some things one just cannot capture in a photograph. Photo # 200 is a perfect such example. I gazed out over the rail at the foliage atop the cliff overlooking the balancing rock in the middle distance, and the flat plain miles away and a thousand feet below and marvelled at the vast distances between each of those features. And then I looked through the viewfinder at the exact same scene, and it all flattened out. Big let-down. I took the photos anyway. If you're reading this on a full size computer monitor, click in the photos to get a full screen image, and you can get some small hint of what it was really like. If you're reading it on a phone, it's hardly worth it.
On top of Mount Lemmon

300. Mike and Molli at the cabin


310. Wildflowers


330. Wildflower


340. Marshall Gulch


350. Wildflowers


360. Ravine


370. Stream along the hiking path


380. Brave bird (Yellow-eyed Junco*)


390. Jenny contemplating the infinite
Barb's cousin owns a cabin up at the top of the mountain in the aptly named town of Summerhaven. The cabin was originally a boys' school, and was designed by Frank Lloyd Wright. Barb spent summers there since her college years. We had grabbed some sandwiches on the way, and pulled up to the cabin to have lunch. The cabin was locked up, but the patio was a wonderfully tranquil place to eat. The altitude (9,157 feet) gave us some respite from the heat, and the bright sun and cool breeze were delightful.
Suitably refreshed, I was ready to tackle some hiking. Barb had some business to take care of, and Andrew was still recovering from some recent surgery, so they opted not to come with us. Barb drove us down to Summerhaven, and let us off, where Jenny and I walked about a half mile down a road adorned with wildflowers, some seemingly growing right out of the rocks, following a mountain stream. That stream deepened to an impressive ravine (Photo 360) as the road descended to the Marshall Gulch Recreation area. The fauna have become pretty much inured to human presence, and the bird in Photo 380 allowed me to approach within a few feet to photograph it before flying off. (Can anyone identify the species? Let me know.)
We chose a hiking path of "moderate" difficulty that climbed along another stream towards the ridge at the summit. "Moderate" is evidently a relative term. It was pretty darned steep. Photo 370 is of yet another subject that cannot be photographed. The encircled area is actually a pretty significant waterfall, and the lighter area in the circle is way down and distant over the lip of the falls. Although the Recreation Area is probably several hundred feet below the 9157 foot summit, the altitude was really getting to me, and I was getting pretty tuckered out. That, and the westering sun approaching the ridge line, convinced me to turn around and head back before we reached the top, not wanting to negotiate the steep path in the dark. I called Barb, and they picked us up in the parking lot, and we headed home.
I was pretty knackered, and napped in the car during the ride back. The nap was welcome and beneficial, as Andrew had plans for us in the evening. There was a jam with some Tucson area musicians at the home of Grace Hartman in town to which we were invited. Jenny and Barb took a pass on that, but Andrew drove me to the home in question. There were about a half a dozen people gathered in the patio behind the house, with one or two instruments amongst them. The music had not yet started. I was introduced to the gathering as I unshipped my guitar, and I waited to see what kind of repertoire was native to this group. It turned out to be very familiar and comfortable with my own, and I was able to join in and contribute. Popular "folk" music from the 60s and 70s (What I call "Crosby, Stills, Mitchell, and Garfunkel"), some of the trad classics, country music, acoustic blues, Grateful Dead, etc. I was able to add guitar, concertina, or harmony vocals to most of it, and most of what I played was well accepted by the group. It was a most compatible gathering. Andrew felt somewhat out of his league, and didn't offer much of his own music. But he later told me that he was thoroughly entertained by the quality of music produced by the group, and was happy to sing along with the songs he knew. There was one fellow there named Michael Markowitz who was a particularly accomplished player on guitar and mandolin. Andrew told me he was the go-to guy when musicians in Tucson were looking for a lead player to sit in on a performance or recording. And I could see why. He said he would try to attend my concert on Sunday. All in all, it was a very satisfying session.
Saturday, September 2:
Tucson: Sonora Desert Museum, Saguaro National Park, Tucson Contra Dance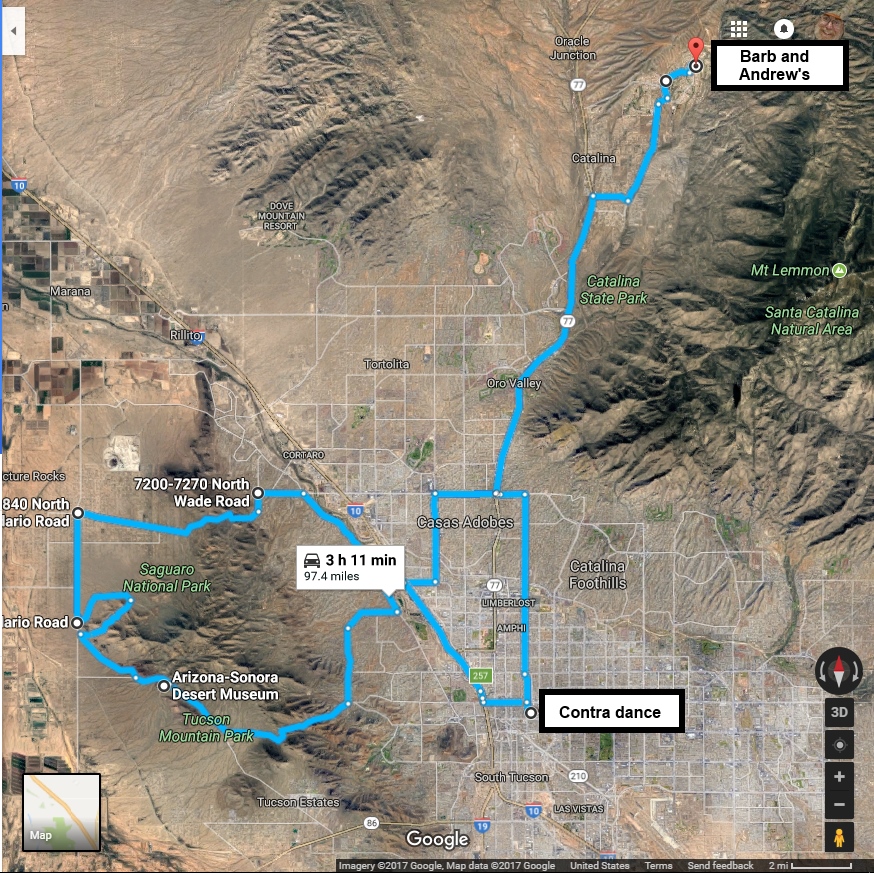 On the agenda for today was, on Andrew's recommendation, the Sonora Desert Museum, and the Saguaro National Park, followed by a contra dance in Tucson proper in the evening. I was really looking forward to the dance, but a bit lukewarm about the desert stuff. It turned out I was wrong about both.
Museum grounds
| | | |
| --- | --- | --- |
| 400. View out of Welcome Center | 410. The real desert | 420. Sentinel |
| 430. Grounds | 440. Grounds | 450 Colorful photographer |
Jenny and I borrowed Barb's car and headed off to the museum, which was on the far side of Tucson proper. The name "Desert Museum" brought to my mind the vision of dry dusty trails through an endless expanse of barren sand and cactus. Not so. The museum was indeed situated on the edge of a limitless desert, but one with life and vegetation in abundance. The grounds were beautifully landscaped with native vegetation, pleasing to the eye (Photos 430, 440, & 450). Yet, one could still look out beyond the confines of the the Museum grounds to see the vast wildness beyond (Photos 400 & 410).
Desert Flora
| | | |
| --- | --- | --- |
| 460. Flowers | 470. Some kind of cactus | 480. Prickly Pear (Yeah, I know it's a fruit and not a flower. But it's purty anyway.) |
| 490, Flower and butterfly | | 510. Flower and butterfly |
Normally, flowers do not immediately spring to the mind of this Easterner when he hears the word "desert". Well, perhaps they do not blossom in such concentrated profusion as when cultivated by an army of landscapers on the grounds of a museum. But the outdoor pathways and grounds sure were purty. My ignorance and laziness are showing, as I did not bother to try to identify any of these examples. If anybody can identify these by species, please let me know, and I'll update the information.
Desert Fauna
| | | |
| --- | --- | --- |
| 550. Big Horn Sheep | 560. Porcupine in its den | 570. Prairie Dogs |
| 580. Ol' Paint | 590. Grasshopper | 600. Off to see the lizard< /p>< /td> |
There were some wonderful exhibits of desert fauna in simulated habitats. For some nocturnal critters that spend the daylight hours sleeping underground, like the porcupine (Photo 560) and beaver (not shown) the museum provided windows to observe them in their dens. The colony of prairie dogs (Photo 570) were most entertaining. I wonder how deep they had to bury the cage walls to prevent them from burrowing their way to freedom. Some of the critters on display were not actually part of the exhibits (Photos 590 and 600).
Desert Birds

610. Sculpture


620. Parrot


630. Buzzards


640. Great Blue Heron*


650. Anna's Hummingbird*


660. Black-Chinned Hummingbird -- possibly*


670. This one took a liking to Jenny's trousers.
*Thanks to Blog reader Dianne Kearney for bird identification. Can anyone else identify the one in Photo 670?
Yes, I know. Technically birds are included within fauna. But the museum devoted a lot of space to the birds, and I took a lot of photos. The entrance to the avian exhibit was adorned with a wonderfully imaginative bronze sculpture by Dion Wright depicting the evolutionary path from ocean-dwelling prehistoric creatures through reptiles to birds (Photo 610). There was a walk-in hummingbird aviary where I spent a lot of time being charmed by them. I took a lot of failed photos trying to catch them in flight. They kept teleporting out of shot. The only one I could get to stand still long enough to photograph was evidently a leg man (Photo 670). Again, if anyone can identify the species, let me know and I'll add in the information.* Buzzards (Photo 630) I expected in the desert, but not parrots (Photo 620) or herons (Photo 640).
Saguaro National Park
| | | |
| --- | --- | --- |
| 700. Saguaro National Park | 710. Saguaro National Park | 720. Saguaro National Park |
We left the Museum around 4:30 to my recollection, and headed to Saguaro (pronounced, I'm told, "Sahuaro" if one wants not to be branded a furriner.) National Park, only a few miles further down the road. I got to use my brand new Senior (Urrgh!) Pass, which at $25 for lifetime free admission to all National Parks is a bargain. I intend to live long enough to make it a real bargain. We didn't spend a lot of time there, but rather drove a 10 mile or so dirt road loop through the back country. (See the odd looking loopy detour from the straight road on the map.) I'm not sure what else people do there, unless they're into wilderness trekking. It was austere and rugged country, and interesting in its departure from my everyday environs. But all things considered, I was quite content to view the wilderness from a vehicle with air conditioning. It was slow going, but we were in no hurry. Jenny, a died in the wool Vermonter, is no stranger to dirt roads. And we both thought that the National Parks Road Maintenance Department could have taken some lessons from her local road crews. But then again, the National Parks Service budget has been slashed so cruelly under the recent administrations of both parties that they're probably doing the best they can.
Rather than backtracking the way we had come, we took another route back to downtown Tucson in order to see more of the countryside. The plan was to have some dinner in town, and then head out to the contra dance, where Barb and Andrew would meet us. Eating out can present problems for us, as Jenny and I both prefer to dine in peace and quiet, while most establishments feel compelled to entertain us with music that neither of us particularly like, garnished with about 80 db of background racket from the other diners, trying to converse over the music. We finally found a hamburger joint that was bearable. We ate and headed over to the dance, which was held at the Methodist church on the campus of the University of Arizona.
For those readers unfamiliar with it, contra dancing is a form of social dance akin to square dancing. It uses much of the same choreography as square dancing, except the dancers are arrayed in long lines of couples, rather than in squares, and each couple gets to dance with every other couple in the line over the course of the dance. It's an energetic, flirtatious, and very social form of social dancing, and has rescued me from being the total dance klutz I was as a young man. I met Jenny at a contra dance in New Jersey over 30 years ago. Here's a video example.
I was really looking forward to the dance, as I hadn't had the chance to dance with Jenny in a long time. Barb loves to dance, but Andrew was somewhat hobbled by some recent foot surgery, and so had to sit out. However he loves the music, and so was reasonably entertained. But as it turned out a lot of factors were arrayed against us this particular night. There were a lot of beginners at the dance. I don't mind a reasonable number of beginners in the mix, because usually the more experienced dancers can guide them in the right direction. But when the percentage of newcomers gets too large, the whole structure of the line can break down. To compound things, the sound was not particularly clear, and there were a number of noisy electric fans on the floor because of the heat, so the caller was hard to understand. And for all Arizona's vaunted "dry heat" I was sweating like a pig in short order. To top it off, I was feeling like I might be coming down with a cold, which concerned me, as I had a concert to play the following night. So we called it a night at the halftime break, and headed back to the Hines' for a shower and some sleep.
Sunday, September 3:
Tucson: Concert Day
The one event around which this vacation was based was a house concert that Andrew had arranged for me on this day. Well, that's perhaps an overstatement. I'd been wanting to see some of the sites on our itinerary for most of my life. But Andrew's offer was what got me off my duff and actually take this trip.
As I said at the outset, Andrew and Barbara had been very much involved in the folk scene in New Jersey, and missed it terribly. So much so that Andrew resolved to not only find what folk music there was in Tucson when they moved, but actually bring more of it to the area by starting a series of house concerts. That idea was very much on their mind when choosing the house they would purchase. They wanted the space to present a concert to an audience of 40 to 50 people, either indoors or outdoors, depending upon weather. Tonight's show was slated to be held outdoors with that vista of the sunset illuminating the Catalina Mountains in the background.
They launched Catalina Concerts this past Spring with a show by songwriter Jack Williams. Their neighborhood is a large development of 50+-year-old adults, both retired and working, with a strong sense of community spirit. It's also located about 45 minutes' drive outside Tucson proper, which means that it is rather isolated from any live music or other cultural activity. And the Hines', being a sociable and affable couple, quickly developed a large group of local friends, who were most happy to attend the productions of their neighborhood impresario. So the series started with a bang, and then continued to draw large crowds.
It didn't hurt that their experience with the Folk Project exposed them to some of the finest performers in the acoustic music field, so they were able to deliver some knockout shows. It also didn't hurt that they knew how to throw a party. From the crack of dawn, they were busy cleaning the house, preparing food, moving furniture, setting up a sound system, posting signs about with information on where the bathrooms were, and the like. They even hired a handyman for some of the heavy lifting, which Andrew couldn't do as was his custom due to his recent foot surgery. I pretty much kept out of their way, or helped where I could.
Michael Markowitz, whom I had met at the jam the previous night, showed up early to lend a hand with the sound system, and to rehearse with me, playing guitar backup on a set of tunes I generally play solo on concertina. My inklings of a cold the previous evening happily proved to be a false alarm. I was concerned for the temperature, which was well into the 90s during the day. But that moderated considerably, and the "stage" area on the patio became shaded by the house as the afternoon wore on. The concert was preceded by a potluck dinner, which turned out to be quite a spread. between sound checks and rehearsals with Michael, I barely had time to wolf down a couple of mouthfuls of something, which must have been good, but I was preoccupied with preparation. And before I knew it, it was showtime.
It went off well. It was well received. Nobody left at halftime. Which is a good sign. 42 paying guests. More than covered my airfare. (No, I didn't declare that as a business expense.) Later reports, Andrew told me, were so favorable that I might go back out there again next year just for a return engagement if I can get another gig in the process. After most of the crowd had left, Michael Markowitz hung around, and he and I and Jenny and Andrew swapped a few more tunes and songs. Jenny and I capped the evening with a session in the Hines' backyard hot tub. Very relaxing, but alas, we did not see the expected display of desert stars, due to a haze that persisted for our entire trip. That paucity of stars was the one disappointment of the whole trip. We soaked until we got good and wrinkly , and then turned in.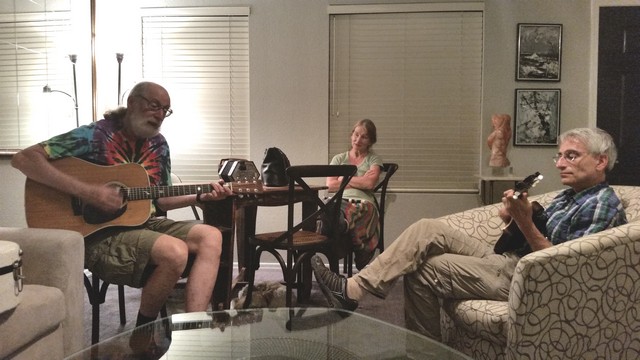 Post concert jam: Michael Markovitz on right.