St. John Vacation
(Note: Clicking on any image in this travelogue will bring up a full screen version of the image.)
Sunday, March 31:
New Jersey to St. Thomas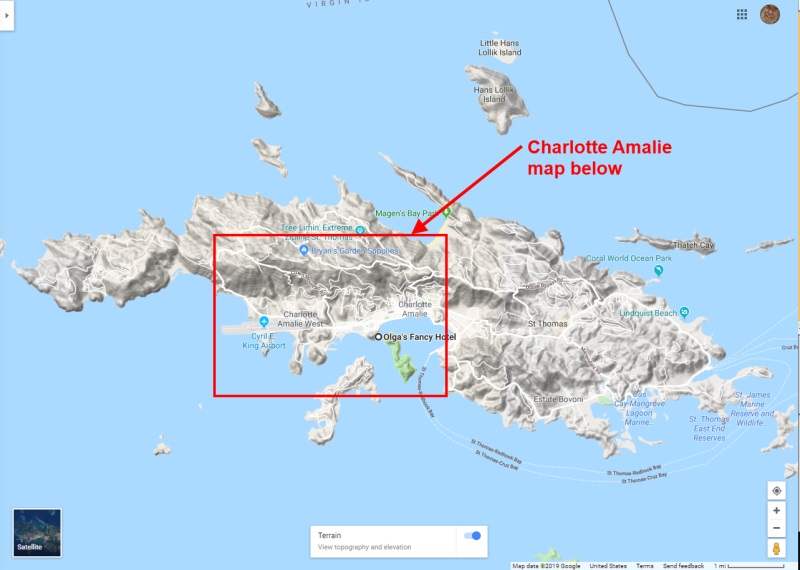 St. Thomas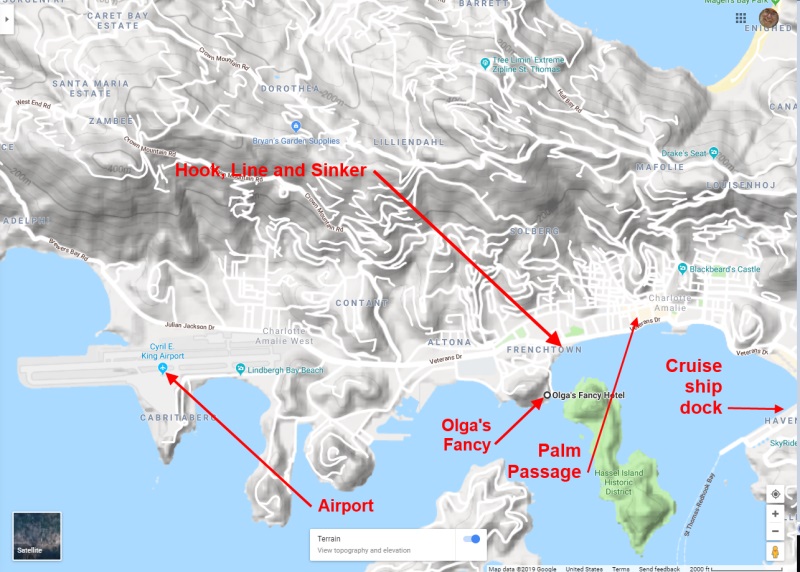 Charlotte Amalie
Of late, whenever Jenny and I have traveled afar together we've reached our initial destination on separate flights, as she lives in Vermont, and I in New Jersey. But, huzzah! This time she made arrangements to lend her car to a friend while she was away, and we all met at my place on Saturday afternoon. And I was treated to her company during the flight for a change. It was an 8:30 flight out of Newark, and my friend Bill Henderson was once again kind enough to ferry us to the airport. We drove over to his house, and left my car there.
I swear! Every time I fly, they have a new arrangement for going through Security. This time it involved an enormous single line that snaked almost the entire length of the terminal. I could have skipped it, because the gods had mysteriously awarded me "TSA Pre-Check" status. But not Jenny. It later turned out on the flight home that she had the Pre-Check status, and I didn't. (The ways of The Transport Security Administration are obscure, but never pleasant.) So I kept her company on the line. We were plenty early, and the line moved along quite briskly. There was one minor delay, as my backpack was shunted off for a manual inspection. Evidently the X-ray had picked up the turkey sandwich I had brought along for the flight, and they wanted to see if I was smuggling human organs or something like that. I collected the backpack when they were done, and went to return the contents of my pockets from the tray. And lo, there right on top of the pile in the tray was my pocket knife I had forgotten to put in the checked baggage. (See the story about the last time I had forgotten to put that knife in checked baggage in my Blog Entry of April 18, 2011. That's a remarkable tale.)
The US Virgin Islands are a good deal east of the Continental United States, off into their own time zone. But they do not recognize Daylight Saving Time, so we didn't have to change our clocks. The flight was an uneventful 4 hours. And right on time around noon, we swooped in to land at the Cyril E. King Airport on St. Thomas. You can see from the map that about 1/3 of the runway is built on landfill they extended into the bay. Although the bulk of our stay was to be on St. John, there were no Sunday vacancies at the place we were to stay there. So Jenny booked us Sunday night at a place on St. Thomas called Olga's Fancy. A taxi took us the 2 miles from the airport to our lodgings, and we settled in.
Olga's Fancy
| | |
| --- | --- |
| 100. Olga's Fancy | 110. View from our deck |
I was looking for a word to describe Olga's Fancy Hotel. "Fancy" certainly wasn't it. The closest we could come was "rustic", but that's not quite right either. It looked like they were trying for "island elegant", except a lot of the finish work had been done by the owner and his cousin instead of professional carpenters and masons. Not that I'm complaining, mind you. The place had its charm, due in no small part to the owner, Eddie. He's from the US Midwest, living on the island most of the year. Eddie greeted us in an informal and laid back manner, and showed us to our room. The place is a series of terraced banks of rooms, each accessible from a long outside deck. The room was very nice and comfortable, but smelled rather strongly of disinfectant when we first entered. That soon faded into the background, however, and we didn't really spend a lot of waking time in the room, anyway. We didn't unpack thoroughly, as we were only going to spend one night here, and we set out to wander the town of Charlotte Amalie.
Charlotte Amalie

130. The Marina at Cay Bay


140. The Marina at Cay Bay


150. Cay Bay Harbor from Veterans Drive


160. Sea plane


170. Palm Passage


180. Snazzy ironwork gate to Palm Passage


190. Janne and Britta


200. The bold hunter
(Little green heron, according to Jenny)
Olga's Fancy was on the edge of a sort of scruffy part of Charlotte Amalie called Frenchtown. Narrow, meandering streets with just enough pavement to have potholes, a working port for small fishing craft, picturesque restaurants, small residences, and the inevitable McDonald's. The mountain on whose lower skirts Olga's Fancy perched came right down to the road's edge, buttressed by some old stonework from colonial days. An egret stood sentry atop the stonework as regal as the Beefeaters outside Buckingham Palace. (Photo 120 -- Thanks to Kevin Redden for identifying the bird for me.) Like other places we've been in the Caribbean, the streets were liberally populated with chickens and cats, none of which were particularly sociable.
We wandered in and about Frenchtown. Stopped to watch a very little league game of baseball (kids about 9 to 11 years old) on a reduced size diamond. And a little further on, a much more professional level game of softball with some heavy-duty fastball pitchers. We finally emerged onto Veteran's Drive. This was the main drag in town. My gosh, it is a 4-lane divided road for at least 3/4 of a mile, bordering Cay Bay Harbor (Photo 150), and is the site of the Windward Passage Hotel and Casino, fancy restaurants, and other tourist attractions. It also services the ferry dock to St. John, the Marina (Photos 130 & 140) the main cruise ship dock, and a seaplane terminal. (Photo 160)
We crossed Veteran's Drive, and went through the historic Palm Passage (Photos 170 & 180) to the next parallel street, hoping to see some of the interior streets, but everything was pretty closed up on a Sunday. And what's more, it was Sunday of "Transfer Day" weekend, celebrating the ceding of St. Thomas, St. John, and St. Croix from Denmark to the US in 1917. That was to toss a monkey wrench into a lot of our plans over this day and the next. About the only thing that was open was a street market with some very aggressive vendors selling clothing and fruit and jewelry and folk art, and other touristy tchotchkes. Some of the dresses were very pretty and colorful, but Jenny wasn't in the market, and we escaped by the skin of our teeth with our wallets intact.
By that time it was around 5:00 anyway, and most of the street market vendors were closing up shop. And we were getting a little hungry as well. So, at the advice of Eddie of Olga's Fancy, we headed for a restaurant in Frenchtown called Hook, Line, and Sinker in the Marina area. To avoid the omnipresent reggae music inside the restaurant, we sat at an outside table, and gazed out at the boats moored there. My eye was caught by a small bird with a long beak (Photo 200) perched on a mooring line dangling about 10 inches off the surface of the water. It was staring fixedly at the water with the intensity and single-purposeness of a cat at a mouse hole. The analogy was apt, for after as long as 10 minutes, it leaned over, evidently gripping the cable tightly with its feet so as not to rotate upside down, and delicately reached into the water with its beak and came up with a minuscule fish. It then resumed its stake-out, waiting for the next victim to wander close enough to the surface to be caught. The bird had more patience in its hunt than I did with my camera, and I never did catch it in the act.
Speaking of cameras, I noted throughout my journey that I appeared to be the last tourist in the Caribbean (if not the world) to carry a camera. Everyone else was using their phones. I'm no photography phanatic, but I do believe in using the right tool for the job if it's available. A view-finder is so much better for composing shots than a screen, especially in sunlight which washes out the screen. I felt a little conspicuous, and perhaps a tad atavistic with the thing dangling about my neck. But I wore it proudly.
At the table next to us at the restaurant were a pair of women conversing in some foreign language that I couldn't place. Jenny guessed at Danish. In the end, I approached them and asked. Jenny had it right. Janne (YAH-neh) and Britta were Danish nationals who come to the island on a regular basis. I assumed they were mother and daughter, but never did ask. We had a pleasant conversation in perfect English, and then went our separate ways, probably never to meet again.
As night fell back at Olga's Fancy, a reggae band cranked up on a party boat all the way down in Cay Bay a good mile distant, and yet loud enough to be bothersome out by us. Eddie said they generally didn't do that on Sunday nights. But it was probably the tail end of Transfer Day celebrations. Fortunately, they quit at 10:30, and I fell quickly to exhausted sleep.