December 1, 2011
Or Would I Rather Get A Job (Part II)
I am now a full-time part-time folksinger. I was laid off from my day job as a mechanical engineer at the end of November.
Polytype America, where I had been working since 2007 is a US branch of a Swiss company. They manufacture printing machinery to apply artwork onto cups, tubes, shampoo containers, and the like. I liked the job, and I had a comfortable relationship with my employers and supervisors. The business model for the corporation was that the Swiss home branch would manufacture machines for Europe and Asia, while the US branch would make them for the Western Hemisphere. We had quite a lot of business in Central and South America, as well as the US. Back in Spring we got the word that the Swiss branch was pulling the manufacture of all complete machines back to the home facility, leaving us with only tooling, attachments, field service, and the like, after we had completed the building of all orders then in the pipeline. The drastic reduction of manufacturing work led to a comensurate need for engineering work, which in turn resulted in my layoff. When I joined the company I was the 6th mechanical engineer in the group. When I left, only one remains.
They laid off the right guy. I'm very good at what I do. But the fellow who's left there has been with the company for 15 years, and has what I call the "tribal knowledge" of all the old design machines still in the field, and general company practices. I can take some comfort from the fact that I lasted as long as I did, even though I was the one with the least seniority. Nonetheless, I still find myself in the unfamiliar position of looking for a job, something I haven't done since 1979. Before there was an internet. I have to learn how to look for a job.
My last job just fell into my lap when my previous employer went out of business. (See Blog entry of July 21, 2007: "Or Would I Rather Get A Job" Part I.) Of course the question presents itself: Why not retire and do music full time? I suppose I could. But I don't want to be on the road all the time. It would take a lot of the joy out of the music. And I really like the stability and structure afforded by a normal human job. I also really like the work. There's a wonderful sense of satisfaction to see a concept that started out as a doodle on a scrap of paper progress through stages of CAD drawing on the screen, to engineering drawings for the shop, to metal and plastic, and finally to seeing the thing work as I had envisioned it at the beginning of the process. Money's not the issue. Financially I could have retired years ago. I don't need the money; I need the job.
So I'm in the market. It's not totally bleak out there. There are positions. There are nibbles. I'm gonna be picky, as this will probably be my last job. I'm 66 years old, which is an impediment to being hired. But my health is good (no meds, good blood pressure, good cholesterol, I run every other day for exercise and go out contra dancing regularly). And my attitude is good. I plan on dropping dead at my computer at age 106. We'll see what happens. Anybody know of machine design positions available in northern NJ, give me a holler.
September 5, 2011
Irene
| | |
| --- | --- |
| During | Before and After |
They say a picture is worth a thousand words. Here are two pictures, so I'll keep my words brief. I have lived in my house for 32 years. I was aware that the Rockaway River bordering my back yard floods. And two years after moving in, I raised the house about 6-1/2 feet, turning what was a crawlspace into a garage. I designed the lower portion of the house to be flood-proof. Masonry construction, nothing of value stored near ground level, all electrical wiring and equipment kept up by the ceiling. And for 30 years my careful preparations bore fruit. I survived floods, hurricanes, and other disasters with only minor inconvenience. I was unconscionably smug.
Then last week came Hurricane Irene.
I had actually considered staying in the house and weathering the storm. But looking at the radar images on the TV of that massive spiral bearing straight down on New Jersey, I made a last minute decision to abandon ship around 8:00 Friday night. I headed out to my friends Mark and Robin Schaffer who live the next town over, and had graciously agreed to take me in. Good move. Sunday morning I took a ride over to look at the damage and took the picture on the left. I had made some brief, but effective preparations before leaving, one of which was to haul my canoe (seen in its usual storage location at the ready to the left of the stairway in the right hand picture) out across the road. I paddled out and took the photo on the left, and went in to survey the damage. Then came back to the Schaffers'. I was able to walk in dryshod on Wednesday, and moved back home this morning (the following Monday) when the electrical power finally was restored. The picture on the right was taken this morning.
All things considered, I got off light. If you look carefully at the left-hand photo, you will see a 4 inch watermark above the waterline. That marked the high water. Nothing got in the living space. The main casualty was my backup electrical generator, which is mounted way up at the ceiling of the garage, and had heretofore escaped any damage. My car, of course, was over at the Schaffers'. Secondary damage was that my heating oil tank was contaminated with water, and will need to be pumped out and flushed. Everything else was small change. I don't carry flood insurance. I built my flood insurance. If you measure my losses from Irene against 30 years of flood insurance premiums, I'm ahead of the game.
I have no thoughts of moving or trying to prepare for another such event. I consider Irene to be a real anomaly, not to be repeated anytime soon, or even in my lifetime. Previous high water was about 4 feet lower than this, or around 8 - 9 feet above normal river level. (See Blog entry of March 11, 2011) That makes this flood a good 50% higher than anything previous. Since each additional inch of depth must cover an ever wider acreage of land, I would guesstimate that the actual volume of water was anywhere from 3 to 5 times as much as anything before. Considering how seldom hurricanes hit New Jersey dead center (Floyd got us in 1999), and how much more rain Irene delivered than anything in the past (Floyd put the water not much higher than the March 11, 2011 event) I think my chances of actually getting water in the house are pretty slim.
My thanks to all those who helped me: To Mark and Robin who put me up and put up with me for a week. And to my neighbors the Wulfecotts, the Schmitts, and the Buzbys who watched over my house during the ordeal, and kept me informed of progress.
Post Script, June 1, 2012
I installed a new generator on a tower to bring it up above the levels of Irene's flood waters during 2012 finally completed in September. It was just in time to ease my way through the aftermath of Hurricane Sandy, which turned out to be no flooding problem, but power was out for about a week.
Post Script, March 24, 2019
My friend Jean Scully is a realator, and gave me an interesting tidbit of information she had turned up. The reason that the Boonton and Denville area was so heavily flooded was due only in part to Hurricane Irene. It seems that a dam in the Picatinny area upstream of us was in danger of overtopping its crest. So, for the first time ever, they opened the floodgate to relieve the pressure on the structure. And they couldn't get it closed again! And the entire lake emptied into the Rockaway, completely inundating the area.
That actually makes me feel a little better. It means that absent that error, it is highly likely that future hurricanes will bring the river level anywhere near as high as they were in 2011.
April 18, 2011
My Brain Hurts
I had a gig in North Carolina back in February. Coming back home I was running a little late for my flight. Not disastrously, but I was cutting it a little fine, and was rushed. I hit the security line about 20 minutes before my flight time, and reached into my pockets to empty them for the scan. To my dismay, I discovered I had forgotten to put my pocket knife in my checked luggage. It was a very nice knife. So as I handed it to the TSA guy, I asked, "Isn't there some way I can mail it back to myself?" Well, actually there was. And he very kindly led be back outside the security area where there was a facility for doing just that. (Why they put the facility outside the security area puzzles me, but then security regulations are not required to be sensible or effective.)
So here I am: I have my guitar in one hand and all my papers bunched up in the other. My shoes are untied, my belt is hanging from a belt loop, my pants are falling down, and it's 15 minutes to flight time. He left me at this kiosk where you can fill out a form and put the contraband in an envelope to be mailed back to you. Oh shit! I don't have a pen. So I find another TSA guy and bum a pen off him. I put everything down on top of the kiosk, which is sloped. The knife slides down the slope and falls into a crack between two modules of the kiosk. AAAAUUUUUGGGHHH! So I fish in the crack with the pen and the end of my belt trying to get the knife out. The second TSA guy comes over with this "What are you doing to our machine?" look on his face. "The knife! It fell into the crack! See? there!!"
I finally get the knife out. My plane leaves in 5 minutes. Hurry, hurry, hurry! I fill out the form. The fee is $15.95. I look in my wallet. Hooray! I have $16.00 exact change. I stuff the money in the envelope, put the form in the envelope, put the pen in the envelope, seal up the envelope, put the envelope in the kiosk, put the knife in my pocket, and head off to Security.
!!!!!!
Of course I had to give them the knife. As it was, they were paging me for last call as I ran up to the departure gate. The only thing that saved it from being a total disaster was that I had lost that knife several years ago, and bought a replacement. And then found the lost one under the floor mat of my car. So I still have a nice pocket knife.
Oh, and I did get a lovely pen in the mail a couple of weeks later.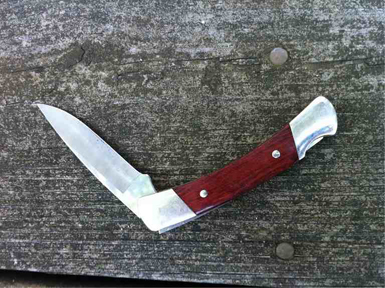 March 11, 2011
God Willin' an' the Crick Don't Rise
My back yard borders on the Rockaway River.
Usually.
Today my front yard borders on the Rockaway River.
Not nearly so horrible as it looks. In fact it's sort of a routine occurrence, which I'm prepared for, and which is now a minor inconvenience, rather than a disaster. When I bought my house, the wooden part of the structure you see here was at ground level. Six months after I moved in, a flood around this magnitude happened, and put water up to the keyboard of my grandmother's baby grand piano. I resolved to fix the problem.
A year and a half later, I had the house raised to the level you see in the photo. What was a crawl-space is now garage area. The first storey is all masonry, and impervious to water damage. I lived in the house the whole time, entering the house through the hole in the front wall where the fireplace used to be. (I tore down the fieldstone chimney and rebuilt it myself. You can see my progress as a stonemason; it gets neater as it gets higher.) All the electrical wiring is high up on the walls, and there is no storage at ground level. I rigged up a block and tackle to store the lawn mower up by the ceiling. The floor is above ground level, so that when the water level goes down, it all drains out. I hose it out, and all is well. The only damage is that my woodpile floats, and I have to re-stack it.
March 9 - 10 saw some pretty heavy rains on top of already saturated ground, so I knew it was coming. I left the car at the head of the driveway, and said, "Bring it on!" This one was higher than most, but no record by any means. It was about a foot higher back in 1999 when hurricane Floyd came through. I left the car at the head of the driveway Thursday night, which is pretty much above any high-water mark I've seen, and listened to the rain patter on the roof all night long. Friday morning, I looked out the window, and knew right away that the chest-waders weren't going to cut it, and it was time for the canoe.
My canoe hangs inverted on davits from my 2nd floor deck. I merely have to flip it upright in its sling, and lower it into the water. Paddled out to the car, and went to work. Most of the photos you see here were taken when I arrived back home on Friday afternoon. The rain had stopped, and it was a lovely afternoon for a canoe trip down my driveway and around the house. By Saturday afternoon, I was able to abandon the canoe in favor of the waders. And Monday morning I walked out dry-shod. As expected, no damage other than the displaced woodpile.
Click on any photo to enlarge it.
| | | | |
| --- | --- | --- | --- |
| Neighbors house on the left. Mine is the tan one peeking through the trees. | Canoing down my driveway | | That's my finger in the foreground top. |
| Home, sweet home | That platform at the base of the upper stairs is about 4 feet off the ground. | Taken from my deck looking downstream. | Taken from that platform at the base of the upper stairs. |
| Out my back window | The next day from the back yard. You can see the water's already on its way down | Also the next day, looking at the side of the house. | How I store my canoe. Flip it over and lower it into the water when needed. Boats away! |