December 15, 2007
A Concert for the 25th Anniversary of Pete Fornatale's "Mixed Bag"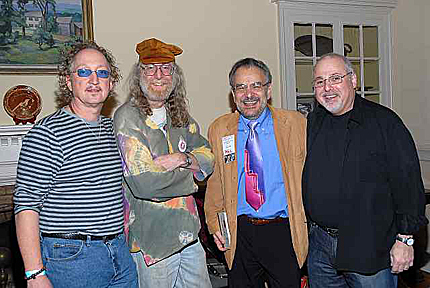 Last Thursday night December 13, I got a phone call from Pete Fornatale asking me to perform in a concert celebrating the 25th Anniversary of his radio show, "Mixed Bag". Those of you not in the New York City area may not be aware of the significance of that. "Mixed Bag" was one of the seminal examples of late 60's Progressive Rock Radio, and I had been a great fan of the show pretty much all through my teens and 20's. So needless to say, this was an honor I could hardly turn down. How this came to pass is an interesting series of serendipitous events. Here's the back story:
Some time in the early 80's I was hanging around the house on a Sunday morning when the phone rang, and a friend frantically shouted over the receiver, "Turn on WNEW! Turn on WNEW! You're on WNEW!" So I turned on WNEW and there was my voice coming out of the speaker doing "Ballad of the Sandman". (For those of you unfamiliar with "Sandman", it is a spoken piece about a mythical radio DJ who rebels against dictates and playlists imposed upon him by station corporate management. He delivers a memorable and legendary New Years Eve show from the within locked doors of the studio, and goes out in a blaze of glory.) This was pretty astonishing for two reasons: Firstly, the actual show that was playing my piece was Pete Fornatale's "Mixed Bag", Fornatale was one of my models for the title character of the piece, Paul Sandman. And secondly, this was long before my first CD, so I hadn't even recorded the piece at the time!
All my friends sort of felt we knew Pete in a way. His voice presented an intelligent and eminently likeable personna, and he was one of the role models I had in mind when I created the character of "the Sandman". A bunch of us had once written into the station and invited Pete out to dinner so we could meet him in person, but we never got an answer. The station probably thought we were a bunch of wacked out stalkers, and never passed the message on to him.
Over the years, Pete's career in radio followed a winding path. As the general format of radio changed and stations got gobbled up by media conglomerates, Pete took his show from WNEW to K-Rock, and eventually to WFUV, the Fordham University radio station, which currently programs mostly Americana, contemporary folk/rock, and a lot of Celtic music. The station is influential in the New York area folk scene, and Pete is now a venerated fixture there, along with fellow WNEW alumnus, Vin Scelsa.
When the piece ended, Pete said words to the effect that this was a piece by "singer-songwriter Mike Agranoff", and was one of the most remarkable and moving pieces of literature he had ever heard about the radio business. He went on for an embarrassingly long time in that vein, leaving me dumbfounded. I tried to call the station, but there was no one on the switchboard on Sunday. So I left a message, figuring he was never going to call me back after my experience with inviting him to dinner.
Well, Monday night, the phone rang, and it was The Great Man Himself. He was so glad I had happened to catch the broadcast, especially because he had no idea of who I was or how to contact me. (Pre-internet days.) So how did Pete get hold of this recording, which I had never sent him?
The remarkable and improbable story that revealed itself was that some weeks before this, I had done "Sandman" live over the air on the Gene Shay Show on WHYY, Philadelphia's NPR station. It just so happened that Christine Lavin (Do you know her? Comedic folkie songwriter.) was performing in Philadelphia that night, and wanted to hear Gene Shay's show. However, she was to be onstage at the time of the broadcast. So she set a cassette tape recorder on a timer to record the show off the air. She listened to the recording on her way home that night, heard "Sandman", and said to herself, "My friend, Pete Fornatale, has got to hear this! (Typical of Christine. She has done so many things to help fellow performers.)
She made a copy of the cassette, and sent it to Pete in the mail. Pete listened to it and flipped! So he put this lo-fi 3rd generation cassette tape of a spoken word piece on the air on the biggest commercial radio station in New York City. So Pete invited me come into New York to the WNEW studios for a live interview for his show, and perform "Sandman" for him and his listeners in person. He recorded that interview and performance on, what was then top quality reel-to-reel tape. And he has since played that studio recording of "Sandman" every year on his show closest to New Years Eve. In 1993 (I think) he invited me to perform at his annual World Hunger Year Concert at the Beacon Theater in New York along with Ritchie Havens and Tom Paxton and Peter and Mary (without Paul) and Dion (without the Belmonts) and a bunch of others. Pretty heady stuff.
So this year, a whole bunch of stars aligned themselves. Aztec Two Step is a group that had been pretty major players in Pete's heyday, and have been performing continually since then. They have developed a show in tribute to the music of Simon & Garfunkel. Pete has just published a biographical book called "Simon and Garfunkel, Bookends" about that famous duo. So he put together this concert idea where he would do readings from his book interspersed with music from Aztec Two Step. And the date of the concert was to be December 28...right close to New Years Eve. Who better to open the concert than Agranoff?
So that's how it came to pass. On short notice, but I'm ready for it. If you are in the area, it will be a memorable concert.
Post script, Dec. 29, 2007:
Well it was indeed a memorable concert. Sold out house consisting in large part of people who have heard my work ("Sandman"), but had never seen me live. They were primed, and I was glad to be able to deliver. (Standing ovation, encore, good CD sales, and a bunch of additions to my mailing list.) Aztec Two-Step did a beautiful set of Simon & Garfunkel songs, all of which I knew all the words to, and happily sang along from the audience. Nice interplay between them and Pete Fornatale, with Pete giving some background and history to some of the songs.
Post script, June 2012:
In Spring of 2012, Pete Fornatale passed. And I was invited to be part of a memorial concert at the Hard Rock Cafe in New York in his honor. Here's the story.
Post script, September 2019:
After Pete's passing, his producer, Don McGee took over as host of Mixed Bag on WFUV. But before he died, Pete passed on to Don a collection of around 400 reel-to-reel tapes of on-air interviews he had done with many of the seminal folk and rock musicians he had befriended over his years on the air. In 2019, Don finally decided how to make use of this treasure. He arranged to donate them to the New York Public Library, to be archived and digitized for access by the public in perpetuity.
When the arrangements had finally been consummated, Don, in conjunction with the NYPL, arranged what he called a "Listening Party" on September 16, 2019. There he presented some excerpts of these interviews in a 200 seat auditorium in the Lincoln Center branch of the Library, and invited the public to come to the party. The interviews were played to a backdrop of projected images of the subjects of the interviews, and Pete's interactions with those subjects. And as a finale, he invited me to come and perform "Sandman" live.
The show was sold out even before I could send out an invitation to my fans. And like the Mixed Bag 25th Anniversary show, the vast majority of those present had heard "Sandman", but didn't know anything about me. The reaction was tremendous; I got a standing ovation, and profuse kudos after the show. And Don McGee told me he would resume Pete's tradition of playing "Sandman" on the Mixed Bag show preceding New Year's Eve, using the recording of my performance. He also invited me to come to the WFUV studio to record an interview with me, and have me play a few songs on the air so folks could hear something of my work besides "Sandman".
Alas, as it turned out, there was a technical problem. While the audience was able to hear me just fine, the signal from my microphone had not been sent to the recorder, and only the general area mics that picked up the audience went to the recording. Consequently the recording of my voice was muddy and barely intelligible, and not suitable for later broadcast. But on November 26th, when I went into the studio to record my interview and on-air performance with Don, I also recorded a separate performance of "Sandman" for him to use on New Year's Eve (alas, without the exuberant audience reaction of the September performance). My interview is scheduled to be aired sometime in January 2020, and I will insert the date here when I get it. Don and I are also talking about bringing the Listening Party to the Troubadour sometime in 2020. And if that comes to pass, maybe I'll be able to get a good live performance recording then.
November 23, 2007
NORTHLANDZ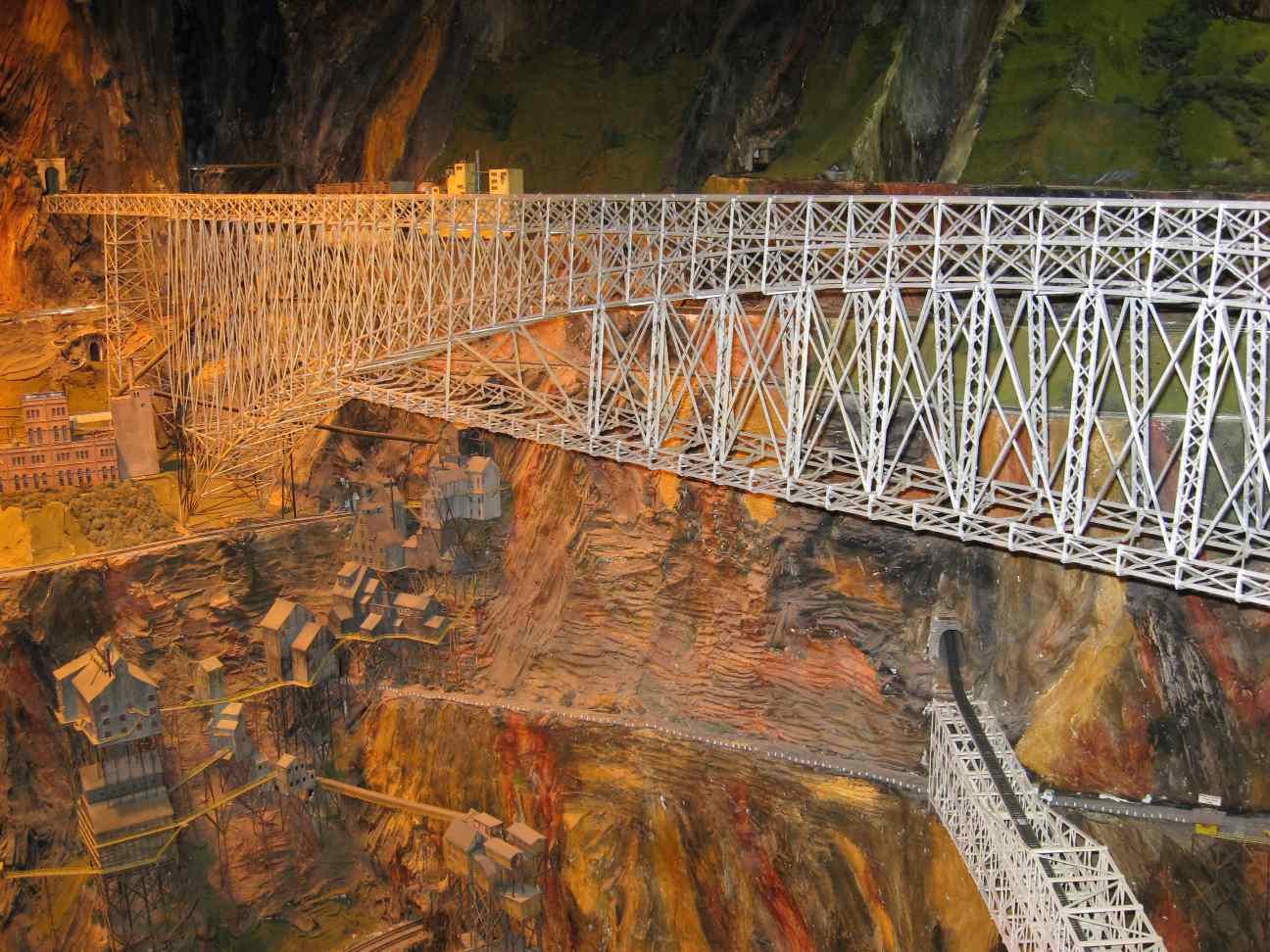 I took a trip out to Flemington NJ to visit Northlandz. This is one of the most unlikely and least known tourist attractions in the state. It is the fancy of one Bruce Williams Zaccagnino, an eccentric (and evidently rich) man. And I would liken it to the Watts Towers in the respect that through perseverance and doggedness, he managed to bring this unlikely fancy to reality. Two fancies, really. Trains and theater organs. And they come together in a rather large but rather ordinary looking building on the side of Highway 202 in Flemington NJ.
It looks like a suburban office complex from the outside. But the inside is entirely filled with one enormous model railroad layout. The tour walks you through various chambers in the building on multiple levels. You're likely to encounter Bruce himself at the admissions window selling tickets. He is unmistakably a character. Entering the first chamber you see a really large model railroad layout similar to those on display by model railroad clubs around the country. Trains enter and exit tunnels in mountainsides artfully blended into the walls of the chamber. And then you walk to the next chamber where the tunnels emerge and find yourself in a room about 5 times the size of the first one.
And as you progress through the building, the scenery, landscape, and overall scale of the display get progressively more and more outlandish, improbable, and thoroughly over-the-top. It takes about an hour to do the entire tour, and you walk about a mile. (That's a real mile, not a scale mile.) There are cities, canyons, bridges galore, and a recurring theme of outhouses. Some improbable statistics include 52,000 square feet of floor space, 8 (actual, not scale) miles of HO track, 4,000 buildings, half a million trees.
In the center of the building is a small theater with a number of theater organs installed. Yes, those gaudy consoles from the '30's to the '50's with multiple manuals and pedals and stops that look like juke boxes on steroids. And every half hour or so Bruce leaves the ticket window, sits down at one of the consoles and gives a little concert. He's a very good player. The tour through the railroad layout crosses through the theater three times at different levels. Talk about non sequiturs! The whole thing makes absolutely no sense and is absolutely wonderful.
Click on the picture above for a picture gallery. Click on any of the pictures in the gallery for an enlarged view.